February 8–15, 2018 Classifieds

For sale: cars, trucks, etc. | (back to top)
TOYOTA CAMRY LE 2006 — Silver: very good condition, sunroof, CB radio, Michelin Defender tires, complete service records. 211k, $3,200. 937-767-7893.
2006 WHITE SATURN Ion — one owner. Less than 41,000 Miles. New tires and battery. $3,000. Leave message at 767-9166.
GOING TO HIBERNATE? Make some space in the house! Get rid of stuff at ysnews.com/classfieds — they work!
"TWO HUNDRED YEARS of Yellow Springs," including the legacy of Antioch College and written by the News staff, is available for $15 at the News office, Dark Star Books, Town Drug or on our website at ysnews.com.
SALES AND SPECIALS: Let everyone know what they can find at your business.
DOGS, CATS, TORTOISES: find a good home for animals here.
NO MONEY NEEDED! List your sevices or items for exchange.
PICNIC TABLE, you haul, you get. Very good condition, sturdy, recently reinforced and painted with exterior off-white paint. 767-8743.
NEED MULCH? Come by the News office! We have old newspapers. 767-7373; Monday–Friday, 9 a.m. to 5:30 p.m.
MOVED HERE RECENTLY? Come to the Yellow Springs News office at 253½ Xenia Ave., 9 a.m.–5:30 p.m. We'll sign you up for a three-month subscription to the News for free! There's a welcome package for you, too.
AM/FM STEREO RECEIVER wanted and/or record player, speakers. Call 767-1384.
FROM ARTICHOKES to xylophones, this is the place to ask for stuff.
SENIOR CO-HOUSING group seeks 1-2 acres of land in Yellow Springs to buy or rent. Contact Pat at ahoyjoy@aol.com.
FORMER RESIDENT would like to return to Yellow Springs for the rest of my life. Seeking one or two bedroom apartment. Must-haves: roof, windows, floor, bathroom, kitchen, place to park. I do have two cats — clean, neutered, inoculated, box-trained — for which I would be willing to pay substantial deposit. Occupancy date can be flexible from June 1, 2018 on. I am clean, honest, trustworthy and occasionally brave. I don't smoke or drink and am 90% emotionally stable (est.) If you have or know of or have even heard a rumor about a place that might work for me, please contact me at 727-798-9156 (text only as I am unable to hear) or Janicecorlett@aol.com Some local references available. Thanks, Beth Corlett.
LOOKING FOR A PLACE to live? House or apartment to share? Announce it here and find a room or a roommate.
HOUSE FOR RENT in Yellow Springs: Newly remodeled home with two bedrooms, living room, kitchen, bathroom and utility room. This house has newly installed vinyl flooring and carpeting, a 96% efficient gas furnace with central air. All major appliances are provided (electric kitchen stove, refrigerator, washer/dryer). The house is located on a large lot-and-a-half property with a nice storage shed and a newly built deck at the rear of the house. Landscaping and yard work will be the responsibility of lessor. Good credit scores required. Available now. Call 248-978-3639.
UNIQUE, FULLY FUNRNISHED studio apartment in the heart of downtown. Courtyard entrance, hardwood and ceramic-tile floors, custom kitchen, shower, washer/dryer, WiFi, private parking, second floor, outdoor area by park. $700 plus utilities for the first month, reduced for long term. Call 767-1778.
FOR RENT: Home in Yellow Springs. House with master bedroom/bath, two additional bedrooms with bath. Space for home office. Hardwood floors, birch woodwork, built-in bookshelves. Two-car carport, brick patio, front and back yards. Central A/C, major appliances. Smoke-free building. Looking for longer-term tenants. Small pets (under 25 lbs.) welcome with pet deposit. Rental application. $1,285/month. Security plus utility deposit. Call 443-824-5457.
BEAUTIFUL HOME for rent in Yellow Springs. Built in 2012. Much larger than it looks, open floor plan and huge finished basement. $2,200/month. 937-271-2832.
COZY, COMFY beautiful home near downtown with extra bedroom. All furnished. Seeking short-term (two-night minimum) to full-time renter. Smoke-free building. Pet OK. 626-665-3355.
THE SHOPS OF 100 CORRY ST.: two, newly remodeled individual office/therapy spaces with common waiting area available at $300/month. Includes utilities. Smoke-free and pet-free building. 937-684-2366 or lcermele@gmail.com.
FOR RENT: like new, six-room business suite, redone by Springfield Regional Medical for a new, local medical facility. Ample off-street parking, hot water heat and all utilities included. Professional Building, 716 Xenia Ave. Available now. 767-9290.
TWIN COACH APARTMENTS: Two-bedroom apartments, washer and dryer hook-up, $700 per month. Tenant pays electric. Appliances and central air included in rent. Deposit required, one-year minimum lease. Pet-free. 408-3424 or 767-9180.
TOWNHOUSE APARTMENTS for rent, Hawthorne Place: one-bedroom, $595; two-bedroom, $695 three-bedroom, $795 plus utilities. Laundry facilities on site. 937-324-3606.
FRIENDS CARE COMMUNITY of Yellow Springs has two-bedroom independent living homes available for senior citizens. Enjoy a comfortable, secure lifestyle on our beautiful campus set on 23 wooded acres with pond and walking trails. Maintenance-free living and appliances included. 150 E. Herman St., Yellow Springs, OH. 937-767-7363. http://www.friendshealthcare.org.
1881 VICTORIAN HOME in Wittenberg University historic area. Now a duplex, separate meters or will help convert it for a large single-family home. Easy fixer-upper — have most materials. Three fireplaces. Could be five bedroom, three bath home. Upper porch and roof top sun deck. Three-car detached garage with 220 electric workshop, gas heat and alley access. Located near Art Museum, Veteran's Park, bike-trail and white-water rafting. Private brick driveway. Retirement sale. Clear deed, could land contract. Payments could be under $400 monthly or reduced for cash offer. $36,000! Any partial trades considered. 386-547-7030.
NOTHING LOST or found this week. Found ads are free.
DESIGNER SHOWHOUSE: Wittenberg College historic area tour. Benefiting charities. Now negotiating with designers, stagers, home maintenance persons, artists, contractors and volunteers. Also Internet person, errands, housekeeping and cleaning, part-time OK, day or evenings OK. Also, this home is being offered for sale. 386-547-7030.
TIME SHARE? Offer your spare time or find someone who wants to share theirs.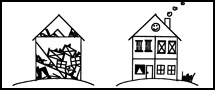 CAN'T GET STARTED? Can't get done? Decluttering is hard. I bring compassion and persistence. Free consultation. Local references. Call Anne, 937-319-1560. http://www.decluttering-service.com.
ED'S HANDYMAN Service. Live locally, references, affordable. Siding, repairs, woodwork, windows, hauling, doors, gutters, cleanouts, awnings, soffits. 937-815-8320.
MUSIC LESSONS: piano, flute, saxophone — all genres, vocal — jazz/popular, music theory and sight singing. Tucki Bailey at 626-665-3335.
ALL AROUND HOME services. Painting, repairs, trim work, maximizing storage space, custom closets, cleaning out garages, removing debris, yard/garden work, raised beds. I help you to make your house your home. Call or text Mark at 937-432-5555.
VOICE LESSONS — Vocal therapy, vocal workshops. Learn to sing in a safe, supportive setting! Beginning to intermediate, ages 10–110. http://www.vocalcoachsantarosa.com or 707-490-6576.
A-C SERVICE Co., a locally owned plumbing and heating company with a 60-year, responsible relationship with the people of Yellow Springs. 116 Dayton St., 767-7406. For coupons, check out http://www.acserviceyso.com!
NEIL DOG TRAINING ("evolving" certified professional trainer/retired special education teacher) will help you train your dog. If you are committed, I can help. Neil Silvert, 767-1991 or nsilvert1949@gmail.com. Free evaluation. Reasonable rates — sliding scale.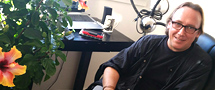 HAIR CUTS AND COLOR: Michael James Hair Salon. 502 S. High St. Open at 9 a.m., Monday–Saturday. 937-581-0746.
I FIX THINGS — Computers, appliances, household, electrical/electronic repair and installation and more. I fix, install, et cetera. David Turner, retired engineer. 767-7849.
GOOD WITH FINANCES? Help someone and advertise your services here.
MAKE FRIENDS, MAKE MUSIC at Friends Music Camp. Four week summer program beginning July 8 at Earlham College, Richmond, Indiana. Ages 10–18. Private lessons in all band and orchestra instruments, ensembles small and large, chorus, musical theater, canoe trip and much more. Two and three week options. For more information and application details: friendsmusiccamp.org.
JOHN MERROW is coming to Yellow Springs and the Miami Valley region. Events are being sponsored by Miami Valley-wide educational organizations and foundations. John Merrow is the revered PBS award-winning education correspondent and celebrated author. The public is invited to meet him and hear his views on public education and his recommendations for improvements to all public schools. There is no cost. Mr. Merrow is the author of the 2017 book "Addicted to Reform: A 12-step Program to Rescue Public Education." It has received an array of impressive reviews from national K–12 thinkers. This is a wonderful opportunity to listen to and interact with an education author who has seen it from all angles for decades. Among other things, Mr. Merrow is a outspoken proponent of "embracing teachers" and only "measuring what matters." Diane Ravitch's blog states, "It is a wise set of lessons that will inform parents, educators and policy makers about the challenges facing American education." Date: Feb. 28, 4–6 p.m.; 3:30 p.m. sign in and refreshments. 4–6 p.m. presentation and Q & A. Place: Greene ESC, 360 E. Enon Rd., Morgan Building, next to Yellow Springs High School. RSVP by Feb. 14 with name, telephone and email address towwooten@greeneesc.org and receive a FREE copy of "Addicted to Reform." Registration may take place after Feb. 14, but free book is not guaranteed.
FRIENDS MUSIC CAMP — It is time to send in your application. Summer program featuring musical growth and community. Ages 10–18. Starts July 8, meeting at Earlham College. Four week program with two and three week options. Scholarships available. For more information and application details: friendsmusiccamp.org.
THE ANTIOCH SCHOOL is seeking donations for our 22nd Annual Auction Gala & Comedy Show, to be held on Saturday, March 3 at the Antioch College Foundry Theatre. Your donation to this event directly supports the Scholarship Fund. When we are able to help families with tuition we are able to build a more diverse student body. Our goal is to meet the full financial need of all families, so that all students who wish to attend The Antioch School may, regardless of financial situation. Please consider donating an item, gift certificate, or service for the silent auction segment of the event. To make arrangements call The Antioch School at 767-7642. Thank you for your generosity.
HUSTEAD SCHOOL HOUSE Farm Market — 3600 Hustead Rd. Minutes from Yellow Springs! All-natural Angus beef. No hormones or antibiotics. Sold by pound. Hamburger, steaks, roasts, etc. Locally farm-raised. 100% farm-to-table. 937-605-3779.
WANT A COLOR AD? Too bad: The News is in black and white. But a pre-printed insert costs just a bit less than a dime per insert to distribute in the News. You design, print it in color — we'll stuff it and get it to our readers. Call 767-7373 or email advert@ysnews.com.
CHECK OUT youtube.com/user/yellowspringsnews for over 70 feature videos of village art, education, music, sports, kiln firing, you name it. Go see it.
NEED A GIFT for someone special who lives out of town? If they've got an email address, they've got an inbox. That's where the News will be every Thursday morning! Go to ysnews.com and choose Subscribe to sign them up for the E-edition.
GIVE A SHOUT OUT! Let the village know about a good deed. Card of Thanks is free — 40 words or less.
GOING SOMEWHERE? Find a ride to share! Save money, the environment and make a friend.
February 8–15, 2018 Classifieds