June 23–29, 2022 Classifieds
For sale: cars, trucks, etc. | (back to top)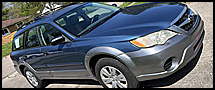 SUBARU OUTBACK 2009 FOR SALE.$4,500, 237k miles, runs well. Call 843-209-1187 if interested.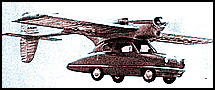 SELL YOUR WHEELS! YS News classified ads will find a new home for your old(er) car. Place your classified ad — with a photo! — today!
BOOK SALE – Free space! Come one, come all! Mills Lawn, August 20. "Books are a uniquely portable magic." – Stephen King.
ALL VINTAGE/MCM/RETRO retail therapy yard sale! Toys, housewares, figurines, oddities and more. Collectors and resellers welcome! Friday, June 24, 10 a.m.–2 p.m. Saturday, June 25, 9 a.m. –3 p.m. 101 King St.
ATTIC FULL? LOOKING FOR KNICK-KNACKS? Yard sales are just the thing!
GOT A DAUGHTER IN DELAWARE? Tired of reading the police report over the phone? Gift an e-edition subscription: they'll receive a digital copy of the News in their inbox Thursday morning. Go to ysnews.com and click on Subscribe.
OPEN FOR BUSINESS? Let everyone know what you're doing and how you want to do it. Place a classified ad.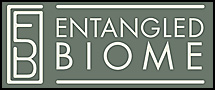 ENERGY AND IMMUNITY IN ONE. Organic Full-Spectrum Hemp Oil (CBD) co-extracted with an organic blend of Chaga (anti-viral), Cordycep (increases oxygen intake and lung function), Turkey Tail (strengthens immune system) and Reishi (boosts immune function) medicinal mushrooms. Contact Robert Hasek, 937-558-8474, robert@entangledbiome.com or order at http://www.entangledbiome.com.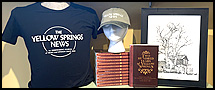 NEWS SWAG — NOW ONLINE! Lovely Gail Kort cards, posters and illustrations; News books, posters and notecards. Visit our newly created online retail page, ysnews.com/shop. You can also stop by our office the old-school way to pick up nifty news gifts, Monday–Friday, 10 a.m.–3 p.m. Please call for extended hours, 937-767-7373.
DOGS, CATS, TORTOISES: find a good home for animals here.
NO MONEY NEEDED! List your services or items for exchange.
HAVE A NEW NEIGHBOR? Sign them up for a three-month subscription to the News for free and we'll deliver a welcome package to them. Call the Yellow Springs News office at 937-767-7373, Monday–Friday, 10 a.m.–3 p.m., or email circulation@ysnews.com anytime to help keep your new neighbor informed!
FROM ARTICHOKES to xylophones, this is the place to ask for stuff.
LOOKING FOR an apartment for myself and one well behaved cat. 937-609-1747.
SINGLE, RETIRED, PROFESSIONAL non smoker with no pets, with partial household, seeking to share rental, preferably first floor. Call 937-813-9896.
LOOKING FOR A PLACE to live? House or apartment to share? Announce it here and find a room or a roommate.
TOWNHOUSE APARTMENTS for rent, Hawthorne Place: one-bedroom, $695; two-bedroom, $795; three-bedroom, $895 plus utilities. Laundry facilities on site. 937-324-3606.
SHORT-TERM LEASE of two-bedroom home. Beautiful and quiet retreat-like spot next to bike path, perfect for a writer/musician/artist. $950 per month, furnished, includes utilities. Available immediately. Must have rural living skills and attitude. Call 937-925-1243 for more details.
WOULD YOU LIKE A LITTLE PRIVACY? Half double, two-bedroom apartment, full bath. Nice deck off living room. Kitchen has glass top electric stove, gas heat. Quiet neighborhood, nice yard, off-street parking. Privacy fence, two patios, small pond. Very private. Available August 1. Call 615-761-4376, leave message.
ORCHARD KEEPER'S ONE-BEDROOM house for rent. Available beginning of August. Large back yard. Application, online tenant check, security deposit required. Rent $865. Year lease. Smoke-free. Smaller pets accepted. 937-823-3173, texts preferred.
TWO-BEDROOM APARTMENT in duplex for rent. Available beginning of August. Easy walking distance to downtown. Application, online tenant check, security deposit required. Rent $670. Year lease. Smoke-free. Smaller pets accepted. 937-823-3173, texts preferred.
FOUND SOMETHING? Put it out there. Found ads are free, always have been.
NOTHING LOST or found this week. Found ads are free.
THE YELLOW SPRINGS AQUATIC CLUB, Sea Dogs, is in need of an assistant swim coach starting immediately. Please call 937-708-6103 for details.
CENTRAL CHAPEL AME Church, Yellow Springs, is seeking a gospel/Christian pianist/keyboardist. Ability to play by ear and read music desired. Requires attendance at choir rehearsals and worship experience on Sundays at 11 a.m. Salary negotiable. Contact information: TheChapelOne@aol.com or 937-767-3061. Serious inquiries only, please.
TIME SHARE? Offer your spare time or find someone who wants to share theirs.
SCHEDULE YOUR SEASONAL HVAC/Heating check-up today! A-C Service Co., your locally owned heating and plumbing company. Call today, 937-767-7406. http://www.acserviceyso.com.
WEEDING, INCLUDES POISON IVY; detailed house cleaning; Chinese language and cultural tutoring. Call Mao at 937-856-8310.
NEIL DOG TRAINING ("evolving" certified professional trainer/retired special education teacher) will help you train your dog. If you are committed, I can help! Neil Silvert, 937-767-1991 or nsilvert1949@gmail.com. Free evaluation. Reasonable rates — sliding scale.
TRADESMAN FOR HIRE. Carpentry, electrical, plumbing, welding, pressure wash. Any homeowner/business needs. Call Mark at 937-605-7535.
OFFERING HERBAL AND NUTRIENT DENSE NUTRITIONAL consultations and herb walks through your property to identify wild foods and medicines in your own backyard! I can also do garden prep, weeding –*it's a good time to remove poison ivy! -– planting and yard work. Call Sandy 937-925-1243.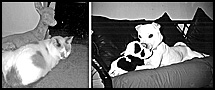 NOT ON MY WATCH! What is your peace of mind worth? I will pet- or house-sit for you at a reasonable price. Honest, ethical, reliable, with local references. Call Jodie, 937-797-4435.
HOME MAINTENANCE SERVICES: Clean up yard debris, brush, gutters, garages, home maintenance, light construction, etc. Will haul. Call or text Mark, 937-432-5555.
KNOW FINANCES? Help someone who needs it! Advertise your services with a classified ad.
WATCH KIDS? Let parents know about your invaluable service.
KNOW SOMETHING? TEACH SOMETHING! Pass along your knowledge or valuable skills: Place your classified ad today!
ANTIOCH SCHOOL NURSERY. How do you teach your child to live a joyful life? How do you prepare them to overcome the challenges that life brings? How do children create their own identities and develop critical social skills? This is where the Antioch School excels. Now enrolling nursery students for 2022-2023. Call 937-767-7642 or visit www.antiochschool.org.
FREE FOR SilverSneakers™ classes at the Wellness Center! Tue/Thu 11 a.m. Chair Interval Training ongoing. Fridays in July: 9 a.m. Pole Trekking. Fridays in August: 10:30 a.m. Line Dancing. Call ACE Certified Senior Specialist Instructor Lynn Hardman 937-765-2379 to register or for more info.
WHAT'S GOING ON? Have something planned? Announce it with a classified ad today!
CLASSIFIED RATES in the Yellow Springs News — $7 for the first 20 words and 10 cents a word thereafter, for both print and online. Photos are $10 per week, horizontal photos work best. Email us directly at classifieds@ysnews,com, submit online at ysnews.com/classifieds or stop by the office, 253½ Xenia Ave., by Mondays at 5 p.m. Please note: any yard sales or garage sales need to be prepaid.
DELAYS IN NEWSPAPER DELIVERY? Please call the News at 937-767-7373 if you are experiencing delays. While we cannot guarantee or affect delivery time via local and area post offices, we can confirm that your subscription is in good standing. Newspapers are always available for pick-up at the News office, and subscribers may consider switching to the electronic edition, delivered via email.
GIVE A SHOUT OUT! Let the village know about a good deed. Card of Thanks is free — 40 words or less.