KKK confronted by angry protesters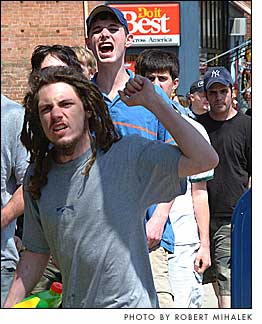 Protesters yelling at Klansmen as they passed by during their literature drive on Saturday.
Hundreds of people gathered downtown on Saturday to witness and protest a literature drive by the Ku Klux Klan, as a group of about seven Klansmen, three of whom were wearing robes and hoods, marched down Xenia Avenue during a rowdy but otherwise peaceful event.
The Klansmen walked through downtown for about 20 minutes, passing out literature about their organization. As they marched in a tight bunch, the Klansmen were pelted with verbal assaults from a group of protesters who followed the Klan as they made their way down Xenia Avenue's sidewalks. Many of the people who stood on the sidewalks also jeered as the Klansmen passed by.
Though it was impossible to get an exact count, several dozen people, many of whom were wearing clothing or other apparel incorporating the Confederate flag, were also present in support of the Klan. Many people were taking literature as the Klansmen passed by on the sidewalk. One boy, who appeared to be in his early teens, told a marcher as he took a flyer, "You're doing the right thing."
Chief stressed safety
About 125 law enforcement officials from 14 jurisdictions were on hand for the event. Some rode bicycles, others drove by in police cars, while many others in uniform were positioned throughout downtown. Several officers with the Greene County Agencies for Combined Enforcement Task Force stood on the roof of the Little Art Theatre, allowing law enforcement officials to see the "big picture" downtown, Yellow Springs Police Chief Carl Bush said. A half dozen police wearing helmets and carrying batons were positioned in the street, and several more police in helmets walked in front of the Klansmen during the march. Other officers were stationed at the Bryan Community Center and at four strategic points near downtown to provide backup to those officers stationed on Xenia Avenue.
In addition, 49 firefighters and EMS personnel from six jurisdictions, including Miami Township, were on hand.
Bush said that his safety plan involved covering downtown "without an overbearing presence," but with enough officers available to "make people safe."
The event cost the Village an estimated $3,000 in overtime, part-time hours for dispatchers and to feed the officials who were on hand Saturday, Bush said. The other departments paid for their personnel, offering the Village assistance through a mutual aid agreement, Bush said. Tom Gray, the owner of Tom's Market, donated 25 two-liter bottles of soft drinks for the officials on hand, the chief said.
Bush said that two people were arrested during the event, one for disorderly conduct by intoxication, the other for having a vicious dog and for possessing drug paraphernalia.
Police did not have a crowd estimate, but at least several hundred people were downtown on Saturday.
Bush, who organized and directed the law enforcement operation, said that he thought the event "went real well." Noting that the "ultimate goal" was public safety, he pointed out that there were no injuries, "no real altercations" and no property damage.
He also said that the crowd "mostly cooperated," though, he said, police did have a problem as the sidewalks became congested.
Tucker Malishenko, the coordinator of the Village Mediation Program, said after the march that Yellow Springs "took ownership of the streets without violence."
"I felt like the people of Yellow Springs escorted them out of town," Malishenko said of the Klansmen, "and I thought it was very appropriate. I wanted to see them gone."
Before the march, Scott Steiner, who identified himself as the grand dragon of the Aryan Nights of the Confederacy, Realm of Ohio, of the Ku Klux Klan, said the group was coming to Yellow Springs to respond to "inflammatory language" that was posted on the Antioch College campus during a People of Color Takeover Week last month.
Antioch officials have described the week as an academic exercise to inspire dialogue about racism and issues of equality. On Saturday, Bob Devine, a former Antioch College president who is now a professor at the college, said that the POC Takeover Week was meant to challenge students by using their racial differences to lead to meaningful exchange.
Hostile, but nonviolent, march
The Klan had told Village officials they would be in town from 1 to 3 on Saturday afternoon, and by noon many people, mostly out-of-towners, were already lining up along Xenia Avenue, amongst the noticeable police presence. Almost all downtown shops were open.
Around 1 p.m., police blocked traffic from Xenia Avenue, Short Street and Corry Street, between Xenia and Dayton. Bush said that he had hoped to keep the streets open but Xenia Avenue became too congested with people and traffic. The crowd was mostly orderly, as police tried to keep people from blocking the sidewalks.
Shortly after 1:30, about seven Klansmen — three in hoods and robes, another wearing all black with a Swastika armband — started their literature drive at Xenia Avenue and Corry Street. They walked down the north side of Xenia, crossed to the other side of Xenia at Limestone Street and came back through the heart of downtown. The group stayed on the sidewalk, did not stop and made one pass through town before leaving.
Numerous reporters, television cameramen and photographers kept pace with the Klansmen, and police officers also walked among the pack.
Several of the protesters followed closely behind the Klansmen, constantly screaming obscenities at them. Some of the protesters were organized, and a few, but not all, of the most vocal were wearing t-shirts identifying themselves as members of the Anti-Racist Action Network, a youth-oriented group that opposes hate groups. One unidentified protester yelled: "Get out of Ohio! Ohio belongs to the anarchists!"
Columbus resident Jerry Bellow said before the march that he and about 20 other members of Anti-Racist Action from Ohio, Indiana, Illinois and Texas came to Yellow Springs to "make sure the Klan have an unsuccessful and dispiriting rally."
"Hopefully, we're just going to drown them out and get together with people in town and show them they're not welcome here," Bellow said. He said that local residents asked the group to be there.
Inside the pack of Klansmen and protesters, emotions ran high as protesters, far out-numbering the KKK and their supporters, told the Klan that it was not welcome in Yellow Springs. The situation grew tense as a marcher and a protester confronted each other in the middle of the sidewalk. Police gave the protester a warning, as the pack continued to move down the street.
Though the crowd was hostile and loudly protested the Klan's presence here, the march was not violent.
One marcher, who gave at least two different names to reporters, said that the Klansmen wanted to "let people know we've got pride and we're not afraid to stand up for our white rights." This marcher, who was not wearing a robe and hood, also said that the group wanted to tell whites to "stand up and be proud of your race."
At some point, two local residents, Holly Ramage and a woman who asked not to be identified, got in front of the group of Klansmen and led the march as they carried a banner that said, "Stop Racism." Ramage said that the action was her way of peacefully opposing the KKK and showing the Klan "what we were about."
The march ended around 1:50 when the Klansmen passed Hilda Rahn Park, and police prohibited protesters from continuing to follow the Klan.
A day of mixed reactions
Although the Klan's presence here was disruptive, most downtown merchants stayed open throughout the day, partly because the sunny spring weekend meant additional business, and partly because shop owners did not want the Klan to shut down downtown Yellow Springs.
Kecia's Boutique, which is owned by Kecia and Keith Tolliver, a mixed-race couple who have received harassing literature in the past, remained open. Keith Tolliver said that many people offered the store support, "coming in to make sure we were OK."
Tolliver said that he was also pleased with Saturday's turnout against the Klan. "The message came out loud and clear," he said. "People here are not going to tolerate it and they will stand together."
Karyn Stillwell-Current, the co-owner of Current Cuisine, said that she never thought about closing, although business was nonexistent between 1 and 3 p.m. "I was never closing, I wasn't going to validate them," said Stillwell-Current, who wrote the words "We share the dream," referring to the famous Martin Luther King Jr. speech, in her storefront window.
Ye Olde Trail Tavern, however, was one of the few businesses that closed until after the Klan left Yellow Springs.
The Tavern's owner, Cathy Christian, said she was concerned that "heckling" could have ensued between her patrons sitting in the restaurant's outdoor seating and the Klansmen. She said that she didn't want to have to play "referee" or have to decide whether to serve patrons because of their beliefs or behavior.
"The more talk there was, the worse it sounded like the situation was going to get," Christian said. "We just didn't want to get in the middle of any bad situations."
Though Village officials urged Yellow Springers to ignore the Klan's presence here, many local residents did come downtown to observe the KKK and to protest.
Ken Huber passed out signs he made that said "Yes! to freedom of speech and of assembly/No! to hate." Huber said, "I don't believe the Klan should silence Yellow Springs."
"I just think we have a wonderful opportunity to stand up for what we believe in and to have it publicized," he said.
Aurelia Blake said that she came downtown with her mother, Doris Blake, and her baby grandson to enjoy the spring day and "to make sure the spirit of Yellow Springs is present."
"I don't want anybody polluting it, the spirit," said Blake, who teaches language arts at the McKinney School and is a member of the Village Human Relations Commission.
"It's important to be here because you're part of the community," Doris Blake said.
Theresa Thinnes said that she planned to stay home, but decided at the last minute that her absence could be interpreted as apathy. So, she said, she decided to come downtown, connect with others and defray any threat to the community.
Other Yellow Springers, however, decided to not come downtown while the Klan was in town. Bob Brecha said, "I didn't want to give them any more legitimacy than the absolute minimum."
Several Yellow Springs High School students said that they agreed to stay away during the early afternoon. Sitting in front of Tom's Market, Gigi Davis and Darcy Hennessy said that they had discussed the Klan event in class and were shocked that the KKK would want to visit the village.
Though Hennessy said that she did not support the Klan, she likened their cause to a religion and said she recognized their right to practice their faith and act within the limits of the law. She said that she did not want to be "racist in reverse" by preventing the Klan from demonstrating.
John White of Cedarville brought his three children, ages 9, 7 and 5, to the event to expose them "to some of the real stuff of life," adding, "though we are in no way supporters of the KKK." He said that though he and his wife can read to their children about racism, "at the same time we want them to understand it."
Larry, a Riverside resident who did not want to give his last name, sat on a bench in front of the Senior Center during the march, taking a few photos to show friends and family that "hate still exists today." He said that the KKK event did not seem to have a worthwhile purpose. "These individuals, although they were expressing their First Amendment rights, they could have used their energy on something more positive," he said.
Xenia residents Margaret Davenport and her granddaughter Ruby King came to town to shop, not realizing the Klan was going to be here. Saturday was their day to visit Yellow Springs, Davenport said, and they would not be disrupted by a demonstration.
Few students were spotted on the Antioch campus during the Klan event. The college locked all student dorms and designated several safe spaces on campus where student could gather. "We're trying to be real sensitive to people's anxieties today," said Callie Cary, the college's director of alumni relations.
The event did not disrupt Antioch McGregor University's weekend classes, though McGregor served students free pizza for lunch so they would not have to go downtown.
—Robert Mihalek and Lauren Heaton