The Yellow Springs News E-edition
E-edition subscribers: please click here to log in.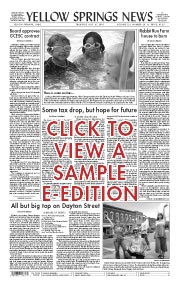 To accommodate our subscribers who are not within easy mailing distance or prefer to read their news on a screen, the Yellow Springs News has been formatted as an electronic edition, available for subscription at $65 a year, the same cost as an out-of-state print subscription. Each Wednesday (or Thursday on weeks with a Monday holiday), e-edition subscribers will receive a user name and password, along with a link to the current week's edition. The e-edition is a PDF facsimile of the print edition, and available the same day as the print edition. It is self-contained, searchable, downloadable and printable. Click on the thumbnail image at left to view a sample edition. (Please note that you may be required to download the PDF and view it in Acrobat Reader, though most major web browsers can display PDFs without helper applications). Subscribing is easy: just fill out the form below. You can pay online via Paypal, or send a check for $65 made out to the Yellow Springs News.  For more information or assistance, e-mail [email protected] or call 937-767-7373, Mon.–Fri., between 9 a.m. and 5:30 p.m., Eastern time.
---