For sale: cars, trucks, etc. | (back to top)
2000 CHEVY 2500 Silverado, 8 foot bed,¾ ton, 4x4, low miles, $6,500 firm. 937-478-8418, leave message.
COMING OUT OF HIBERNATION? Make some space in the house! Get rid of stuff at ysnews.com/classfieds — they work!
LOOKING FOR FANCY shoes, yarn, fabric or just knick-knacks? we have a little of everything — loom and spinning wheel to local pottery. Everything must go. 785 Wright St., Saturday, May 18, 8:30 a.m.–4:30 p.m.
DORM FRIDGE— CHEAP! Get something to cool your kid's stuff for a hot price: $65. One year old, 3.1 cu.ft. refrigerator and .87 cu.ft. independent freezer section, perfect for dorm or tiny apartment. Call the News at 767-7373, Monday–Friday, 9 a.m.–5 p.m., Thursday–Friday, 9 a.m.–3 p.m.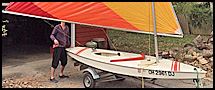 1977 ALCORT SUNFISH Sailboat with trailer — ready to sail this summer at many lakes near Yellow Springs (Buck Creek, Cowan Lake, Caesar Creek and Kiser Lake). Excellent condition, stored inside. Perfect for learning basics of sailing. $1,250. Call 937-356-8222.
FLUORESCENT BULBS: box of 50 F32 T8, brand new — we switched to LED! $50. Call the News at 767-7373, Monday–Friday, 9 a.m.–5 p.m., Thursday–Friday, 9 a.m.–3 p.m.
GOT A NEPHEW IN NORWAY? Tired of reading the police report to him over the phone? He'll receive a PDF of the News in his inbox on Thursday morning if you buy him an E-edition subscription. Go to ysnews.com and click on Subscribe.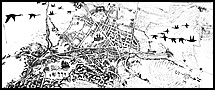 VINTAGE VILLAGE POSTERS, lovely cards to send or frame, 11˝x14˝ prints of the Ye Olde Trail Tavern, circa 1980, all by Gail Kort. T-shirts, subscriptions, 200 Years of Yellow Springs and books by Bill Felker. Stop by, pet the dog and take a look! The Yellow Springs News is located at 253 Xenia Ave. and open Monday–Friday, 9:30 a.m.–5 p.m.
YELLOW SPRINGS FARMERS: Farmers Market is back outside in the Kings Yard parking lot. Every Saturday, 7 a.m. to noon in May. New vendors, great locally sourced foods. Follow us on Facebook.
HANGING BASKET SALE — 25% off! Markdown on shrubs and trees also. Greenleaf Gardens, on State Route 68 between Yellow Springs and Young's. Open Friday and Saturday 10 a.m.–5 p.m., Sunday 1–5 p.m. 937-654-4506.
DOGS, CATS, TORTOISES: find a good home for animals here.
NO MONEY NEEDED! List your services or items for exchange.
LEATHER CHAIR, good condition other than some minor cat scratches on side. Text or call Sarah, 937-532-5587. Can text pictures.
MOVED HERE RECENTLY? Come to the Yellow Springs News office at 253½ Xenia Ave., Monday–Wednesday, 9 a.m.–5 p.m. or Thursday–Friday, 9 a.m.–3 p.m. We'll sign you up for a three-month subscription to the News for free! There's also a welcome package for you.
FROM ARTICHOKES to xylophones, this is the place to ask for stuff.
QUIET, RESPECTFUL, nonsmoker without pets seeks a furnished, private room or apartment with same environment in Yellow Springs beginning June 1st. Please call Jeff at 828-513-3925.
SEMI-RETIRED PROFESSIONAL in search of a two-bedroom apartment or small house. Excellent credit and local references. Lincoln 435-819-0932.
LOOKING FOR A PLACE to live? House or apartment to share? Announce it here and find a room or a roommate.
INSIDE STORAGE SPACE available at 108 Cliff St. (the old Lumber Yard). Rates vary, $40–60 per month. 937-206-9801.
TOWNHOUSE APARTMENTS for rent, Hawthorne Place: one-bedroom, $610; two-bedroom, $710; three-bedroom, $810 plus utilities. Laundry facilities on site. 937-324-3606.
HOUSE FOR RENT — mid-century modern, three bedroom, two bath. Room for home office, central air, brick patio. $1,285/month. Non-smoking home. Security deposit, application. Available May/June. Call 443-824-5457.
ONE-BEDROOM APARTMENT, close to downtown, w/d hook-up for stackable, ground floor, freshly painted, backyard, available June 1, $625, 937-760-7715.
THREE-BEDROOM HOUSE, 1 bath, central air. Tenant pays gas and electric. $1,000 per month plus $1,000 security deposit. One year minimum lease. Call 408-3424 or 767-9180.
TWIN COACH APARTMENTS: Two-bedroom apartment, bath-and-a-half, $675 per month, tenant pays gas and electric. Appliances and central air included in rent. Deposit required, one-year minimum lease. Pet-free. 408-3424 or 767-9180.
NOTHING LOST or found this week. Found ads are free.
EMPORIUM WINES AND UNDERDOG Cafe seeks energetic, open-minded and passionate people to join our staff. Front counter and line cook positions available. Weekends and early mornings a must. Stop by and pick-up an application at 233 Xenia Ave.
TIME SHARE? Offer your spare time or find someone who wants to share theirs.
ED'S HANDYMAN Service. Live locally, references, affordable. Siding, repairs, woodwork, windows, hauling, doors, gutters, cleanouts, awnings, soffits. 937-815-8320.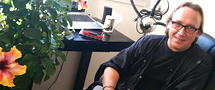 HAIR CUTS AND COLOR: Michael James Hair Salon. 502 S. High St. Open at 9 a.m., Monday–Saturday. 937-581-0746.
A-C SERVICE Co., a locally owned plumbing and heating company with a 60-year, responsible relationship with the people of Yellow Springs. 116 Dayton St., 767-7406. For coupons, check out http://www.acserviceyso.com!
NEIL DOG TRAINING ("evolving" certified professional trainer/retired special education teacher) will help you train your dog. If you are committed, I can help! Neil Silvert, 767-1991 or nsilvert1949@gmail.com. Free evaluation. Reasonable rates — sliding scale.
ALCOHOL CAUSING TROUBLE? Agnostic AA meeting, Open Discussion, for agnostics, atheists and free thinkers. Wednesday night, 6:30–7:30 p.m., YS Unitarian Universalist Fellowship, 2884 US 68, Xenia 45385, 2 miles south of Yellow Springs.
LANDSCAPE SERVICES: Lawn mowing, tree removal, pruning, fences, clearing of vines and unwanted trees. Brush hauled away. Call Funderburg. 937-215-8447 or 767-7524.
J&A LAWN CARE—your local lawn barber. Mowing, trimming, mulch and yard aeration. For free estimate call 937-313-6176 or 937-673-2710.
NOT ON MY WATCH! What is your peace of mind worth? I will pet or house sit for you at a reasonable price. Honest, ethical, reliable, with local references. Call Jodie 937-532-8990.
LANDSCAPE MAINTENANCE — Mowing (regular or vacation). Hedges trimmed. Pruning. Beds edged, planted, weeded, mulched. Total property cleanups. Invasives eradicated. Heritage piles removed. Fences put up or repaired. Gutters cleaned. Many other outdoor chores. Hauling. Knowledgeable all-local workers. Reliable. 767-2729 (voice message) or 750-6090 (text message). Thor and Friends.
GOOD WITH FINANCES? Help someone and advertise your services here.
NEED CHILDCARE IN your home? Great rates offered. References upon request. Call Lindsey at 937-607-7465.
WATCH KIDS? Let parents know about your invaluable service.
ASK SOMEONE who's been there! Friends Music Camp meets at Earlham College, July 7—August 4. Ages 10–18. Visit friendsmusiccamp.org for info and application.
SAVE THE DATE—Yellow Springs High School class of 1969 50th class reunion is Saturday, August 31 (Labor Day weekend). More details coming.
FRIENDS MUSIC CAMP — Two-, three- and four-week sessions. Private lessons in all band and orchestra instruments, piano, voice, guitar and musical theatre. For information and application: friendsmusiccamp.org.
CLASSIFIED RATES in the Yellow Springs News — $7 for the first 20 words and 10 cents a word thereafter, for both print and online. Photos are $10 per week, horizonal photos work best. Email us directly at classifieds@ysnews,com, submit online at ysnews.com/classifieds or stop by the office 253½ Xenia Ave., by Mondays at 5 p.m. Please note any yard or garage sales need to be pre-paid.
WANT A COLOR AD? So sorry: The News is in black and white. But a pre-printed insert costs just a bit less than a dime per insert to distribute in the News. You design, print it in color — we'll stuff it and get it to our readers. Call 767-7373 or email advert@ysnews.com.
CHECK OUT youtube.com/user/yellowspringsnews for over 70 feature videos of village art, education, music, sports, kiln firing, you name it. Go see it.
NEED A GIFT for someone special who lives out of town? If they've got an email address, they've got an inbox. That's where the News will be every Thursday morning! Go to ysnews.com and choose Subscribe to sign them up for the E-edition.
GIVE A SHOUT OUT! Let the village know about a good deed. Card of Thanks is free — 40 words or less.
GOING SOMEWHERE? Find a ride to share! Save money, the environment and make a friend.
---