Theodosia 'Teddy' Westlake
Comments Off

on Theodosia 'Teddy' Westlake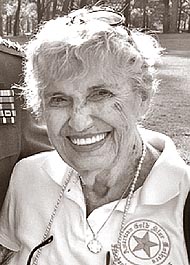 A graveside service for Theodosia "Teddy" Nelson Westlake, beloved big sister of Bambi Williams, will be held at 9:30 a.m. on Saturday, Nov. 30, 2019, at Maple Grove Cemetery in Granville, Ohio. A memorial service celebrating her life will follow at 11:30 a.m. at Centenary United Methodist Church, 102 E. Broadway, in Granville, where the family will receive friends in the sanctuary one hour prior to the service.
A graduate of Denison University, class of 1951, Teddy died peacefully on Tuesday, Nov. 5, 2019, at Kendal of Granville, surrounded by loving and devoted family, friends and caregivers. She was born in 1928 in Philadelphia, Pa., to the late Theodosia Darling Seibold Nelson and William George Nelson, Jr.
During her studies at Denison, Teddy met the love of her life, James MacDonald Westlake. Being stranded together in Granville's winter storm of 1950 kindled Teddy and Jim's romance into a lifetime together — 61 years of marriage — until Jim's death on Sept. 1, 2012.
A passionate musician, Teddy was an excellent pipe organist and pianist and accomplished musical director, who made a career out of teaching the piano. Teddy and Jim were founders of Granville's Village Voices, more recently known as Vintage Voices.
Teddy loved her country and honored the fearless men and women who help defend it. She and Jim, a Navy veteran of WWII, were longtime active members of the Licking County Veterans Alliance, which they considered family. Teddy was active on the Meet and Greet committee at Kendal, where she and Jim were "pioneer members," and where, until recently, she also coordinated and often performed in musical programs and church services. She and Jim were former members of Granville Couples Golf and Granville Golf Club.
Ever vivacious and gregarious, Teddy deeply enjoyed time spent with family and friends. She was a consummate performer and an unabashed hugger and giver of advice. She felt privileged to have traveled to five of the seven continents: Africa, Asia, Europe, North America and South America. As recently as 2018, Teddy maintained a regular annual schedule of attending Gold Star Mother's Weekend in Washington, D.C., where Teddy and her sister Bambi's beloved maternal grandmother, Grace Darling Seibold, originally founded the American Gold Star Mothers, Inc., just 17 days before Teddy was born. She also visited Yellow Springs several times a year for over 50 years, where she delighted in being mistaken for Bambi, and/or asked if the two of them were twins.
Surviving are her sister, Grace Darling "Bambi" Nelson Williams; sister-in-law, Jennie Anita Westlake Findley; nieces, Samantha Williams Eckenrode and Vicki Everitt Findley; nephews, Frank Whitaker Williams and Donald (Deby) Ernest Findley; great-niece and -nephew Miriam (Aaron) Eckenrode-Saari and William Polo Chaikwang; dear friend Marcia Brannon; and a whole host of other family members, surrogate family and friends. Teddy was a shining joy with an inimitable and unforgettable personality. She will be sorely missed and never forgotten.
In addition to her parents and four older brothers and sisters, Teddy was preceded in death by her husband and their unborn son, who was to have been named William Hopkins Westlake.
Memorial contributions may be made to the Licking County Veterans Alliance, P.O. Box 854, Newark, OH 43058; the American Gold Star Mothers, Inc, 2128 Leroy Place, NW, Washington, DC 20008; or Hospice of Central Ohio. Online condolences may be expressed at http://www.mcpeekhoekstra.com.