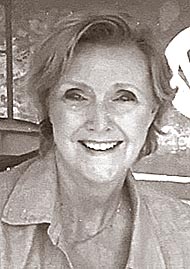 Sandra Lou "Sandy" Mastandrea, of Xenia, passed away on Monday, April 19, 2021, in her home. She was 76.
Sandy was born in Hamilton, Ohio, on Feb. 2, 1945, the daughter of Jerome "Sandy" (Clark) and Virginia Sanders. She worked as the Tutoring Center coordinator in the Bernard B. Rinella, Jr. Learning Center at Miami University before retiring in 2009 after 32 years of service. She was very active in the West Elkton Quaker Friends Meeting. Sandy was a devoted grandmother, loved sculpting and had a sharp eye for design. She enjoyed spending time gardening in her flower beds.
In addition to her mother, survivors include her daughter and son-in-law, Jen Mastandrea and Jonathan Pyles; five grandchildren, Elle Rose, Sean, Matthew, Danielle and Spencer; and many nieces and nephews she loved dearly. She was preceded in death by her father; her son, Jason; and her brother, Ronnie. Services will be held at a later date and inurnment will take place at Fairmound Cemetery in West Elkton. Arrangements by Conroy Funeral Home.