For sale: cars, trucks, etc. | (back to top)
1997 TOYOTA CAMRY, 4-door sedan (sage). 180,000 miles. Same owner since 2000. Excellent maintenance. Runs well — some cosmetic issues. $1,400. 513-236-8364.
1999 FORD EXPEDITION SUV, Limited Edition Eddie Bauer 4x4. New battery, exhaust, suspension and tires. No leaks, cold air. Has Reese bicycle rack for four bikes. No rust. Factory-tinted windows. $3,500. 386-547-7030.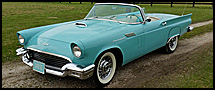 GIVE THE ULTIMATE Christmas gift — 1957 turquoise Ford T-bird convertible w/ cream hard and soft tops; side port windows; 2011 off-frame restoration by D&D; engine/transmission rebuilt by Jasper in 2011; Fordomatic automatic w/ 312 V-8; power everything; A/C; wire wheels; appraised Hagerty condition 1-; 49,683 miles. 937-767-9879.
GOING TO HIBERNATE? Make some space in the house! Get rid of stuff at ysnews.com/classfieds — they work!
PRINT SALE — Tuesday, Dec. 19, 4:30–6:30 p.m. at Weston Hall, Antioch College. See works from revived College's first printmaking class and give them as gifts this holiday season. Park at 515 President St.
DVD's OF THE MESSIAH performed by the Yellow Springs Chorus and Orchestra. $10 each. Call 838-5054.
FREE SEEDS! Mostly annual flowers. Also the earrings of Sarah Lansing and Marilyn Van Eaton and a rotating costume jewelry "yard sale" — most pieces merely $1 each. Indoor Farmers Market at Senior Center, Saturdays, 8:30 a.m. – noon. See you there.
BEAUTIFUL VINTAGE wedding gown and veil. Worn only once, 55 years ago and bride is still married to the same man. Size 4, $300. Call 767-9383.
WANT MORE TIME for what matters this holiday season? Let me make the dessert! Choose from gluten-free pies, cakes, and cupcakes with free delivery within the village. Email 3leeecupcakery@gmail.com or text Victoria at 937-751-0337 for a full menu and pricing. I look forward to baking for you.
"TWO HUNDRED YEARS of Yellow Springs," including the legacy of Antioch College and written by the News staff, is available for $15 at the New office, Dark Star Books, Sam and Eddie's Open Books, Town Drug or on our website at ysnews.com.
SALES AND SPECIALS: Let everyone know what they can find at your business.
DOGS, CATS, TORTOISES: find a good home for animals here.
NO MONEY NEEDED! List your sevices or items for exchange.
NEED MULCH? Come by the News office! We have old newspapers. 767-7373; Monday–Friday, 9 a.m. to 5:30 p.m.
MOVED HERE RECENTLY? Come to the Yellow Springs News office at 253½ Xenia Ave., 9 a.m.–5:30 p.m. We'll sign you up for a three-month subscription to the News for free! There's a welcome package for you, too.
AM/FM STEREO RECEIVER wanted and/or record player. Call 767-1384.
FROM ARTICHOKES to xylophones, this is the place to ask for stuff.
LOOKING FOR A PLACE to live? House or apartment to share? Announce it here and find a room or a roommate.
STORAGE SPACE for rent. 19'x15' equals 285 square feet. $125/month negotiable. Call Bruce, 767-9455.
833 XENIA AVE. Apartment #1. Three-bedroom, 1 bath. $900/month plus $900 deposit. 937-408-1551.
THE SHOPS OF 100 CORRY ST.: three, newly remodeled individual office/therapy spaces with common waiting area available. 110–220 square feet each at $300/month. Includes utilities. Smoke-free and pet-free building. 937-684-2366 or lcermele@gmail.com.
FOR RENT: like new, six-room business suite, redone by Springfield Regional Medical for a new, local medical facility. Ample off-street parking, hot water heat and all utilities included. Professional Building, 716 Xenia Ave. Available now. 767-9290.
TWIN COACH APARTMENTS: Two-bedroom apartments, washer and dryer hook-up, $700 per month. Tenant pays electric. Appliances and central air included in rent. Deposit required, one-year minimum lease. Pet-free. 408-3424 or 767-9180.
FOR RENT: Home in Yellow Springs. House with master bedroom/bath, two additional bedrooms with bath. Space for home office. Hardwood floors, birch woodwork, built-in bookshelves. Two-car carport, brick patio, front and back yards. Central A/C, major appliances. Smoke-free building. Looking for longer-term tenants. Small pets (under 25 lbs.) welcome with pet deposit. Rental application. $1,285/month. Security plus utility deposit. Call 443-824-5457.
HOUSE FOR RENT in Yellow Springs: Newly remodeled home with two bedrooms, living room, kitchen, bathroom and utility room. This house has newly installed vinyl flooring and carpeting, a 96% efficient gas furnace with central air. All major appliances are provided (electric kitchen stove, refrigerator, washer/dryer). The house is located on a large lot-and-a-half property with a nice storage shed and a newly built deck at the rear of the house. Landscaping and yard work will be the responsibility of lessor. Good credit scores required. Available now. Call 248-978-3639.
TOWNHOUSE APARTMENTS for rent, Hawthorne Place: one-bedroom, $595; two-bedroom, $695 three-bedroom, $795 plus utilities. Laundry facilities on site. 937-324-3606.
1881 VICTORIAN HOME in Wittenberg University historic area. Now a duplex, separate meters or will help convert it for a large single-family home. Easy fixer-upper — will contribute to restoration (have most materials ready). Three fireplaces. Could be five bedroom, three bath home. Upper porch and roof top sun deck. Three-car detached garage with 220 electric workshop, gas heat and alley access. Located near Art Museum, Veteran's Park, bike-trail and white-water rafting (four blocks from downtown Springfield, three blocks from Wittenberg). Private brick driveway. Retirement sale. Clear deed, could land contract. Payments could be under $400 monthly or reduced for cash offer. $39,500. Could double or triple your investment! Any partial trades considered. 386-547-7030.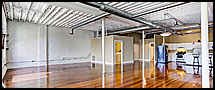 RARE URBAN CONDO loft with 2,160 sq. ft. of artistic space in heart of downtown Springfield. Original wood floors with 12' ceilings, exposed interior brick, huge windows and 15' x 6' balcony overlooking downtown. This 1890s, four-loft building was renovated in 2003 by architect Craig Dillon, award winner for upper level design. Covered carport. Easy access to bike trail or Buck creek. Walking distance to coffee shops, parks and performing arts. A must see! Check additional photos on Zillow. Contact Paul Angelopoulos, Irongate Realtors at 937-361-7763 for showings.
NEW 1½-STORY cottage home —two-bedrooms, 2 full baths, open floor plan with plentiful daylight, energy efficient. First floor master suite with walk-in shower. Generous storage. Optional radiant floor heat, carport or garage. Small, low maintenance lot adjacent to wooded common areas and a stream. Six blocks from downtown. 1,000 sq. ft. Currently under construction and offered at $185,000. 937-219-3588.
NOTHING LOST or found this week. Found ads are free.
BOOKKEEPER NEEDED, part time. Small company but challenging work. Must know Quickbooks. Letter/Résumés to intern@donet.com.
DESIGNER SHOWHOUSE: Wittenberg College historic area tour. Benefiting charities. Now negotiating with designers, stagers, home maintenance persons, artists, contractors and volunteers. Also Internet person, errands, housekeeping and cleaning, part-time OK, day or evenings OK. 386-547-7030.
PART-TIME ASSISTANT Operations Manager at Antioch College Wellness Center. Responsible for excellent customer service; manages facility for short periods — opening, closing, and/or weekend shifts. 15 -20 hours per week. See full ad and how to apply at http://www.antiochcollege.edu/about/employment.
TIME SHARE? Offer your spare time or find someone who wants to share theirs.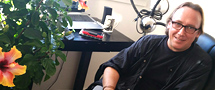 HAIR CUTS AND COLOR: Michael James Hair Salon. 502 S. High St. Open at 9 a.m., Monday–Saturday. 937-581-0746.
SNOW AND ICE REMOVAL — locally owned and operated company offering a wide range of property maintenance, landscaping, and construction services for both residential and commercial properties. Currently offering snow and ice removal rate specials for 2017-18 season. Call or text 937-697-1750 for your free estimate today!
ED'S HANDYMAN Service. Live locally, references, affordable. Siding, repairs, woodwork, windows, hauling, doors, gutters, cleanouts, awnings, soffits. 937-815-8320.
ALL AROUND HOME services. Painting, repairs, trim work, maximizing storage space, custom closets, cleaning out garages, removing debris, yard/garden work, raised beds. I help you to make your house your home. Call or text Mark at 937-432-5555.
MUSIC LESSONS: piano, flute, saxophone — all genres, vocal — jazz/popular, music theory and sight singing. Tucki Bailey at 626-665-3335.
VOICE LESSONS — Vocal therapy, vocal workshops. Learn to sing in a safe, supportive setting! Beginning to intermediate, ages 10–110. http://www.vocalcoachsantarosa.com or 707-490-6576.
LANDSCAPE SERVICES: Lawn mowing. Tree removal, pruning, fences clearing of vines and unwanted trees. Brush hauled away. Call Funderberg. 937-215-8447 or 767-7524.
A-C SERVICE Co., a locally owned plumbing and heating company with a 60-year, responsible relationship with the people of Yellow Springs. 116 Dayton St., 767-7406. For coupons, check out http://www.acserviceyso.com!
NEIL DOG TRAINING ("evolving" certified professional trainer/retired special education teacher) will help you train your dog. If you are committed, I can help. Neil Silvert, 767-1991 or nsilvert1949@gmail.com. Free evaluation. Reasonable rates — sliding scale.
I FIX THINGS — Computers, appliances, household, electrical/electronic repair and installation and more. I fix, install, et cetera. David Turner, retired engineer. 767-7849.
GOOD WITH FINANCES? Help someone and advertise your services here.
GET YOUR EVENT GROOVIN' with DJBobbyLite and the vinyl record experience. Funk, soul, hip-hop, dance, pop, reggae, latin, electronic, lounge and jazz LPs and 45s at your event/party. Or rent our sound gear and plug in your own digital mix. 767-1384.
WANT A COLOR AD? Too bad: The News is in black and white. But a pre-printed insert costs just a bit less than a dime per insert to distribute in the News. You design, print it in color — we'll stuff it and get it to our readers. Call 767-7373 or email advert@ysnews.com.
CHECK OUT youtube.com/user/yellowspringsnews for over 70 feature videos of village art, education, music, sports, kiln firing, you name it. Go see it.
NEED A GIFT for someone special who lives out of town? If they've got an email address, they've got an inbox. That's where the News will be every Thursday morning! Go to ysnews.com and choose Subscribe to sign them up for the E-edition.
GIVE A SHOUT OUT! Let the village know about a good deed. Card of Thanks is free — 40 words or less.
GOING SOMEWHERE? Find a ride to share! Save money, the environment and make a friend.
---