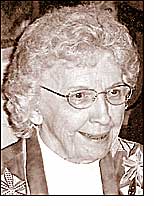 Helen Elizabeth Eschliman, beloved wife and mother, handwork artisan and philanthropist, died peacefully at Ruleme Center on Saturday, March 8. She was 84.
Helen was born in Dover, Ohio, on New Year's Day 1925. She was introduced to her husband, John, by his sister, Carolyn, Helen's nursing school classmate. They married, moved to Yellow Springs, and stayed there for many years. While John studied at Antioch College, Helen worked as a nurse at McClellan Hospital. Helen left nursing to raise their three children.
She was a gracious hostess renowned for the handmade chocolates she gave as Christmas gifts, and an accomplished knitter and seamstress. Helen reveled in the antics and accomplishments of her children, and later her grandchildren.
In 1978, Helen and John retired to Mt. Plymouth, Fla., where her handwork skills made her a respected philanthropist. The handknit gifts Helen gave are cherished by friends and family. Her extensive portfolio includes sweaters, toys, blankets, afghans, wall hangings and rugs, some of which were displayed in central Florida institutions. And many who never knew Helen benefited from the substantial funds she raised handcrafting items which were sold to benefit Waterman Hospital, Anthony House, Elks Childrens' Hospital and other organizations. In particular, Helen designed a collection of Christmas ornaments, crocheting hundreds each year for an annual fundraiser. Devoted collectors across the country sought each year's new ornament.
She was preceded in death by her parents, Karl and Hannah Blankenhorn; sisters, Marcia Andrejeski and Hope Maus; and brothers Bob, Joe and Fred Blankenhorn.
She is survived by her loving husband of 61 years, John Eschliman; her daughter, Becky Eschliman of Yellow Springs, Ohio; and sons, David Eschliman of Colorado Springs, Colo. and Tim Eschliman of Santa Rosa, Calif.; her daughters-in-law, Candice Hall and Maria Shauinger Eschliman; her grandchildren Thea, Tore, Brede, and Teale Eschliman and several nieces and nephews.
All who knew her will remember Helen for her shy smile, nimble fingers, impeccably hand-tailored wardrobe, and tireless generosity. If one woman could knit the world into community and cooperation, it would have been Helen. We are comforted in our grief by the handmade treasures she left to us and the memory of her good deeds unnumbered. We will miss Helen, an artist, artisan and angel on earth.
In lieu of flowers or gifts, all who wish to recognize Helen's passing are requested to make a donation to Anthony House, 6215 Holly Street, Mount Dora, FL 32757, 352-383-5577.