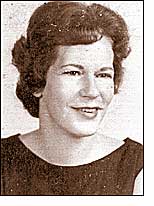 Gretta Marie Scott died peacefully at Friends Care Center in Yellow Springs on Saturday, March 30. She finally joined the love of her life, her late husband James Earl "Dud" Scott Jr., in heaven. She was 74.
She was born May 23, 1933, in Springfield.
Gretta was a hard worker and a true renaissance woman. She began her career studying cosmetology at Frederick's Beauty Academy and went on to be a waitress running the show at the Top Hat Restaurant, both in Springfield. She continued on to work in the Springfield City Schools and then assisted her husband, Dud, in his automotive service in Yellow Springs.
In addition to numerous jobs, she was always a homemaker, holding a life-long passion for sewing. At Friends Care Center she was widely known as the sassy, reigning bingo queen. She was a doll collector, a foster care parent, and a den mother to many neighborhood children. She also took in just about every stray animal and raised both cows and ponies. She loved collecting antiques. Avidly remodeling her family's home, Gretta was often seen wielding crowbars and wheelbarrows (or hauling her children from practice to practice). She had the courage to do it her way.
She was preceded in death by her son, Rory Lee Northup; and her parents, Harold and Frances Williams.
She is survived by her daughters, Katherine Crew and her partner, Rick Parker; Anna L. "Tina" Dorn and her husband, Steven; Penelope Su "Penny" Adamson and her partner, Emily "Bengal" Seibel, of Yellow Springs; Joann E. Sampson and her husband, Tyrone, of Dayton; Janet Lee Scott-Harris in Texas; her sons, Yancy N. "Bub" Adamson in Kentucky; Russell T. Adamson and his wife, Tammy, of Springfield; and John E. Scott and his wife, Gwen, in Virginia; 17 grandchildren; five great grandchildren; 14 cats; nine dogs; and a turtle. Her grandchildren will always know her as "Mimi."
A memorial service for Gretta's many friends and family will be held on Friday, April 4, at 2 p.m., at Friends Care Center in Yellow Springs. In lieu of flowers, donations may be made in Gretta's honor to the Dud Scott-Howard Kahoe Scholarship Fund at the Yellow Springs Community Foundation, P.O. Box 55, Yellow Springs, Ohio, 45387. This scholarship helps students every year go to community colleges and trade schools.