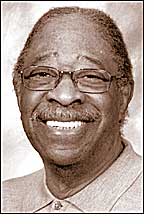 Harold Benson-Jerry (Pikey) Blackwell Sr., Yellow Springs, died on Thursday, April 17, in Community Hospital, Springfield, Ohio. He was 81.
He was born in Springfield on Oct. 3, 1926, the son of Fairess and Hattie (Lay) Blackwell. Harold graduated from Springfield High School in 1946 and took some courses at Wittenberg College.
Harold retired from Wright-Patterson Air Force Base in 1985 as a computer systems analyst after 36 years of service. While employed there he received many outstanding performance awards. He was a faithful member of Mt. Zion Baptist Church, where he served dutifully on the senior usher board.
Harold married the love of his life, Anna Clara Gee, on June 19, 1949. Harold entered into his marriage with love, honor, devotion and support in his heart for his bride. For 59 years, Harold and Anna Clara lived in harmony.
He was preceded in death by his parents; a son, Michael Edwin Blackwell; his brothers, Fairess Blackwell Jr, Edwin Blackwell and Ernest Blackwell; and his sister Evelyn Cordell.
Harold is survived by his loving wife, Anna Clara Gee; his devoted children, Harold B. and Cynthia Blackwell Jr. of South Pasadena, Calif.; Barrett E. and Hazel Blackwell, Atlanta; Nisa Blackwell-Turner of Springfield, Valerie A. and Buck Blackwell-Truitt of Yellow Springs, Cynthia L. Blackwell of Framingham, Mass.; nine grandsons and four granddaughters, a sister, Barbara A. Neal of Los Angeles, Calif.; brothers-in-law, Barrett Gee (and special friend Maxine Henry) and Robert Gee; sisters-in-law, Joanne Blackwell and Jacqueline and James Brewster; an uncle, William Cowens and family, Newton, Mass.; dear friends Diana and Mark Partee, John and Julia Davis, Lawrence and Josella Abrams, Shelbert and Frances Smith; and many devoted nieces, nephews and cousins.
Visitation for Harold Blackwell Sr. will be held Friday, April 25, from 5 to 8 p.m., with the family present at Mt. Zion Baptist Church, 1171 South Yellow Springs Street, Springfield. The funeral service will be held on Saturday, April 26, 10 a.m., at the church, with Reverend Darryl L. Grayson officiating. Internment will follow at Ferncliff Cemetery in Springfield.