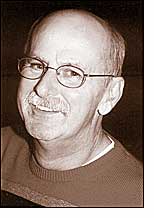 William E. (Bill) Hoag, 60, of Xenia, passed away Thursday, February 7, 2008, at Miami Valley Hospital in Dayton. He was born October 14, 1947, in New Burlington, Ohio, the son of Richard E. and Ruth (Sparrow) Hoag.
In addition to his parents, Bill was preceded in death by his brother, Richard E. Hoag, Jr., in 2000.
Bill is survived by his loving wife, Sheila (Hatch) Hoag, whom he married August 20, 1979, his son and daughter-in-law, William T. and Susan Hoag of Sarasota, Florida; sister Helen (Hank) Vezza of Jamestown, brother Bud (Ann) Burden of Cedarville, sister-in-law Sharon Hoag of Xenia; and numerous nieces and nephews.
Bill grew up in Goes Station, attended Xenia High School, and was known by many people around the Yellow Springs and Xenia areas. He was hired by Jack Alexander in 1968 at PK Lumber in Yellow Springs as a truck driver, quickly worked his way into sales, and was promoted to manager in 1985 (the first time in the history of the company that a salesman had been promoted directly to manager). He continued to work for the Lumber Company for the next 40 years through it's mergers as Erb Lumber and then Stock Building Supply, where he won numerous awards in sales and management. He also served as General Manager of the Springfield, Englewood, Trotwood and Dayton stores with Stock Building Supply for the remainder of his career. He had a loyal following of local builders and handymen/women wherever he went.
He was a multi-talented man, and was frequently consulted at home concerning building and repair projects. He enjoyed woodworking, motorcycles, restoring old trucks — and walking in his woods with his wife and his dog. Bill also enjoyed listening to the Beatles and, among his heroes, were Bob Dylan, Muhammad Ali and John Lennon. He could often be heard quoting some of John Lennon's lyrics. Bill's many friends will miss his unique sense of humor and his outlook on life. He had a million jokes and friends would often laughingly ask him to tell Joke #43 or Joke #57. He was never short on words, everyone always knew exactly where they stood with him.
One of the biggest jokes on Bill was the fact that he always insisted that "there would be no dogs in the house". In 1990, a happy little stray dog came to their house that was part schnauzer and part yorkie terrier. "Maggie" had to stay outside for all of two or three weeks. Sheila went to Florida to visit her sister for a few days and Bill let Maggie in the house. That was "all she wrote" as he used to say. Maggie lived a life of leisure for the remaining eighteen years of her life. She was his faithful friend and he was won over heart and soul by her. Maggie passed away on March 6, 2008 and, as one of Bill's friends said, "He not only let her in the house, he even took her to heaven with him!"
Bill was a happy man. Bill was a good and honest man. He was truly a good samaritan. He would always go out of his way to help a friend in need. He is greatly missed and will be remembered for his many "Hoagisms" (his stories and jokes). For these reasons, anyone that knew Bill can understand what a hole his passing has left in their life.
Funeral services were held on February 11, 2008 at McColaugh Funeral Home in Xenia. Burial followed in Clifton Cemetery.
Memorial contributions may be made to St. Jude's Childrens' Hospital, 501 St. Jude Place, Memphis, TN 38105, in his memory. In addition, anyone wishing to share thoughts about their life connections with Bill are invited to write in the Guest Book at http://www.DaytonDailyNews.com (click on Obituaries, type in Hoag under "Search Options", then click on Guest Book).