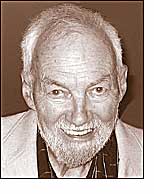 Richard Quinn Praeger, formerly of New York City, Paris and San Francisco, died on April 22, in Yellow Springs, where he resided since 2006. He was 83.
Rick was born in Brooklyn, N.Y., on May 9, 1924, to Edna Quinn Praeger and Emil H. Praeger. He attended Holy Innocents School and St. John's High School in Brooklyn. He enrolled in college at Rensselaer Polytechnic Institute but withdrew to enlist in the U.S. Navy during World War II, where he served on the USS ORCA in the Pacific Theater. He earned a bachelor's degree in civil engineering at Princeton University in 1949 and a master's degree in civil engineering at New York University, where he taught structural analysis and surveying before entering private practice.
A partner with his father in the engineering and architecture firm of Praeger-Kavanagh-Waterbury, he was the managing partner for the design and construction of Shea Stadium in New York City. He later became the principle partner of the engineering firm Madigan-Praeger which subsequently merged with URS Corporation. He was chairman of the URS board of directors from 1971 until 1976 and an active member of that board until his retirement in March 2003. During his career he was the 50th president of AICE (American Institute of Consulting Engineers) and also served as president of the NYACE (New York Association of Consulting Engineers). He was a fellow of the American Society of Civil Engineers and a member emeritus of the MOLES.
He loved languages, art, literature, animals, travel and good food. Having studied German and Latin in school, he became fluent in Spanish in the 1960s and then French in the 1970s. He was a collector of rare books and a member of the Antiquarian Booksellers Association of America. He owned and operated Transition Books in San Francisco for many years, specializing in rare 20th century texts primarily in French, English and Spanish.
He was preceded in death by his parents; his sister, Mary R. White; his first wife, Margaret Reilly Praeger; and two children, Christopher Reilly Praeger and Amy Stinson Praeger.
He is survived by his sister, Elizabeth P. Branigan of Douglaston Manor, N.Y.; two children and their partners, Richard Q. Praeger Jr. and Sondra Govatski of Washington, D.C., and Susan G. Praeger and Gregory Bernhardt of Yellow Springs; three grandchildren, Margaret (Megan) Cathryn Praeger of Virginia, Sarah Praeger Bernhardt and James Wiseman of Houston, and Christopher Praeger Bernhardt of Yellow Springs; two great grandchildren, Julia Lunde of Colorado, and Richard Quinn Beckel of Virginia; and many nieces, nephews and good friends. A funeral mass will be held on May 9, at Holy Innocents Church, in Brooklyn, N.Y., followed by burial in Holy Cross Cemetery.
Many thanks to his loving companions, Friends Care Community, Crossroads Hospice and St. Paul Catholic Church. A gathering to thank those who cared for and about him will be held at Friends Care Community Assisted Living Unit on Sunday, May 4, at 2 p.m.