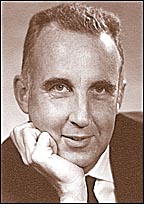 Douglas Scott, born on the fourth of July, 1917, in Boston, Mass., died peacefully on Monday, June 23, in his home in Yellow Springs. He was 90 years old.
Doug grew up in Chagrin Falls, Ohio, and graduated valedictorian of his high school class in 1935. He enrolled directly at Antioch College, where he met his future wife, Dorothy Loveland, and chose a different major every year from chemistry to psychology, finally settling on statistics when he graduated in 1940. Doug and Dorothy married shortly after he landed his first job out of college at Fuller Smith & Ross advertising agency in Cleveland. But they were soon relocated to Fort Knox, Ky., when Doug was drafted in 1941. He spent the war there working in the classification office.
Doug returned with his family to the advertising firm in Cleveland for seven years after the war, but they were inclined toward the more homey, progressive Yellow Springs. When a job opened up at Morris Bean & Co. in 1952, he moved his family to the village, where they stayed until he retired as sales manager for the company in 1967.
Tennis was Doug's passion, and in 1957 he built a tennis court at his home on Allen Street, where he and Dorothy had their "Golden Years Tennis Club." Every Saturday and Sunday, at 1 p.m., anyone who showed and was up for the 10-game challenge could play while the sideliners drank lemonade and Fred Swetland's beer. And there were plenty of balls provided by the Wilson company, who sold the cases wholesale on account of Doug's homemade stationary boasting the name of the tennis club.
Taking a hiatus from the working world in his first retirement, Doug took several long-deferred vacations. With friends from Yellow Springs, he rafted down the Colorado River and sailed around the Carribean and Casco Bay, Maine. Then he returned to the home life to work as a government contract manager at Yellow Springs Instrument for another 10 years.
In his second retirement, he enjoyed visiting his children in Minnesota, Oregon, Florida, Japan and spending winters in a museum house on the beach in Kauai, Hawaii. But the travels ended when he refused to take his shoes off at the security gate for the last time. So he delved into reading, an all-consuming pastime already hardwired into the genetic code of the Scott children. One of his favorites was the New Yorker book review, which served as the basis for a vast number of the requests the Yellow Springs Library received to purchase for its collection.
Doug is best known in recent years for the little electric car he and Dorothy drove around town. Purchased in 2004 to fulfill his childhood dream of owning an electric vehicle, the car drew many questions, comments and smiles.
He is survived by his wife of 66 years, Dorothy L. Scott; four children, Sherraid of Yellow Springs, Margie of Kenyon, Minn., David of Honolulu, Hawaii, and Andy of McMinnville, Ore.; three grandchildren, Duncan Scott of Portland, Ore., and Rose and Mandy Scott of Minneapolis; and two great-grandchildren, Xavion Scott and Maziah Shaffer, both of Minneapolis.
At Doug's request, no memorial service is planned. Any memorial contributions can be made to the Yellow Springs Library Association.