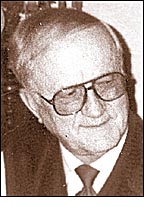 Russel H. Miller died on Saturday, June 21, not June 28 as previously reported. He was 88.
He was born at home near Clifton on January 29, 1920, to Walter and Myrtle (Star) Miller. He graduated from Cedarville High School in 1939 and began his (to be) career with the U.S. Postal Service shortly thereafter, eventually retiring after serving as postmaster in Yellow Springs from 1960 to 1973. After that he had a part-time job at Deaton's Hardware.
Russel was in the Army during World War II in the Asiatic-Pacific theater and worked in Japan part of the time, handling mail. When he returned home, Esther Weiss and he were married in September 1947. Russel became a member of the First Presbyterian Church and was an elected elder. He was head usher for several years and also participated in many church activities. His faith was strong.
He liked people and liked to eat lunch with friends, and liked family gatherings on holidays. He liked gardening and shared produce throughout the summers. He enjoyed fishing and looked forward to annual trips to Canada with buddies. He helped with Esther's care after she became a semi-invalid following a stroke. He could repair or mend many different kinds of things.
Russel was preceded in death by his parents and a brother, Gene. He is survived by nieces, Jane Force and her family, Rex, Drew and Clark; and Susan Bothwell and her family, Seth Bothwell and Jill Bothwell Faillia.
A memorial service will be announced later when family members from Arizona and Oregon can be present. Memorial contributions in Russel's name can be made to the First Presbyterian Church, 314 Xenia Avenue, Yellow Springs, OH 45387.