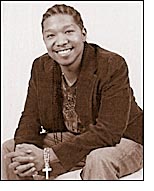 Umoja Iddi Bakari died Friday, June 27, in DeKalb County, Ga. He was 28.
Umoja is survived by his wife, Bekelech Asefa, and son, Elias Bakari, both of Columbus; his parents, Iddi and Maria Bakari; brother, Martin Bakari; sister, Zyna Bakari; all of Yellow Springs; as well as a host of family members and friends throughout the globe who love him dearly.
A funeral mass will be held at noon on Saturday, July 5, at St. Paul Catholic Church, in Yellow Springs, with Father Joseph Goetz as celebrant. The family will receive friends at the church from 9 a.m. to 11:30 a.m., Saturday. His entombment will take place at Byron Cemetery in Fairborn, following mass. In lieu of flowers, donations may be made to a trust fund for his 4-year-old son, Elias, at US Bank in Yellow Springs.