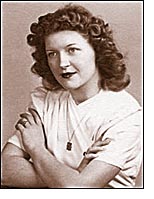 Wilma J. Hasser died unexpectedly at 3 p.m., July 3, at Mercy Hospital, where she received the last rites. She was 78.
Wilma was born June 8, 1930. She was a lifetime resident of Yellow Springs, a member of St. Paul Catholic Church, a member of Yellow Springs' Senior Citizens, a graduate of Bryan High School, and a charter member of the Bryan High School Alumni Association.
She loved animals. Wilma took an active part in helping her daughter, Laura, and son-in-law, Todd VanLehn, lay the groundwork in starting the Greene County Twin Towers Park, a real volunteer effort.
She spent many happy hours cruising the countryside on her motorcycle. Wilma was a member of WIMA, Women's International Motorcycle Association.
Wilma married Cecil Hasser on August 11, 1947, and was married 61 years. She was a good wife, a home maker and a loving mother to her five children.
Wilma was preceded in death by her parents, Helen and Earl Sheridan; brother, Roger Sheridan; and sister, Donna Blanchard.
She is survived by husband, Cecil; sons and daughters-in-law, Robert and Patricia of Fredericktown, Ohio, Gregory of Springfield, Mark of Fairborn, and Steven and Janie of Springfield; daughter and son-in-law, Laura and Todd VanLehn of Xenia; five grandchildren, Shannon, Stephanie, Jacquelyn, Steven, and Barry; and two great-grandchildren, Jaylen and Madison.
Wilma donated her body to Wright State University School of Medicine. Any gift in her memory may be sent to the Yellow Springs' Senior Center.
A memorial service will be announced at a future date.