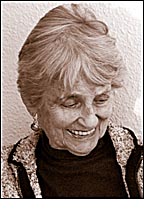 Hanlo von Gierke, who lived in Yellow Springs from 1959–2007, passed away on Aug. 1, in Basel, Switzerland.
Those who knew Hanlo don't need to be told her story — they will appreciate knowing that she died as she lived: peacefully, gracefully, and in the presence of family and friends. Those who didn't know her may wonder: who was this human being whose path I didn't cross, and what can I learn from her life?
Hanlo, born in 1924, was by nature a caregiver, taking responsibility for her younger siblings while living in Holzhausen-am-Ammersee, near Munich, and after 1939 near Philadelphia. She dedicated much of her later time in Yellow Springs to taking care of her adult daughter, Susi, who was diagnosed with MS in 1983 and died in 2002, and her husband Henning, who passed away in March of 2007 after a long illness.
She tended a flower garden in her yard, which gave much joy to herself and her frequent guests. The flower garden was symbolic of two aspects of her nature: the nurturing and the artistic. Her parents were both artists, and Hanlo herself enjoyed working as a photographer in New York. Later, in Yellow Springs, she developed a passion for copper enameling and became a "village artisan."
In the last year of her life she lived in Switzerland with her daughter, Karin, and her family. Although her memory of recent events had faded, she took great pleasure in speaking of her youth in Germany, hearing the Basel church bells ring — calling them "music for my soul," appreciating the flowers which decorated the gardens she passed on her walks, and having her cups of tea while family life unfolded around her. Her infirmities allowed her, at last, to be the receiver of care, a reversal of the role which she gladly had played for most of her life. She was admired by all who knew her in the last months of her life for her dignity, gratitude and warmth, and will be missed by all whose lives she touched.
She is survived by her daughter, Karin von Gierke; her son-in-law, Peter Croton; grandchildren, Lukas and Johanna; brother, York Fischer; and sister, Barbara Eldred.
In lieu of flowers, contributions in her memory may be sent to Hanlo's favorite charity: Running Strong for American Indian Youth, 2550 Huntington Avenue, Suite 200, Alexandria, VA 22303.