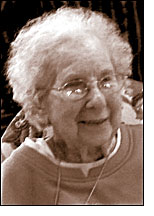 Velma R. Duvall died of heart failure in Springfield Community Hospital on Wednesday morning, July 30. She was 90.
Velma was born on Nov. 4, 1917, in Imogene, Minn. Adopted at the age of one by Eva and Tom Tucker, Velma grew up the only girl in a family of five children. The family moved to Sioux Falls where Velma began piano lessons while in grade school. In high school she studied with Sister Marselin at the Columbus College Catholic School for Girls. When money was too tight for lessons during the Depression, Sister Marselin came to the house and said Velma was very talented and she had to continue teaching her, money or no money! Velma began teaching piano to neighborhood children when she was in junior high school.
The family moved to Lynn Haven, Fla., where Velma graduated from Panama City High School in three years. She attended the College Conservatory of Music at the University of Cincinnati. She was a four-year scholarship student of Severin Eisenberger. He wanted her to become a concert pianist, but she wanted a family life, not a life of touring. In 1940 she graduated with a bachelor's degree in music education with a double major in music and English.
During her college years she became close friends with Ernest Haswell and his wife, Leona. Through Leona she was introduced to the Smoky Mountains, which she always loved.
Immediately after World War II she worked for the Travelers Aid Society at Union Station in Cincinnati, where she witnessed thousands of soldiers passing through on their way home. During this time she also directed the Proctor & Gamble Glee Club. Her first public school job was teaching music for the Mt. Healthy schools, where Matthew Duvall was the school superintendent. It was here where she met the boss's son, Marin Duvall, a history teacher, and fell in love. Velma and Marin were married Oct. 24, 1945. After the war, Marin was transferred to Wright-Patterson Air Force Base, and in 1951 the couple found housing in a two-family house in Yellow Springs with another sculptor, Amos Mazzolini and his wife, Berthe.
With two small children, Barbara and Debbie, Velma expected to lead the life of a stay-at-home mother and housewife. However, shortly after arriving in Yellow Springs, she received a call from Walter Anderson, chair of the music department at Antioch College, asking her to take on some younger piano students. This led to years of teaching hundreds of Yellow Springs students until her retirement at age 75.
In 1955, she and Marin built a house at 210 Allen Street, where she lived until moving into Friends Care Center Assisted Living in 2002.
She was a member of the First Presbyterian Church, where she taught Sunday school and served as both a deacon and elder. As long as she was able, she visited shut-ins with flowers and food and good cheer. She could play piano by ear and enthusiastically accompanied many spontaneous singing gatherings. She loved to sew and made crafts for many church bazaars, as well as clothing and toys for her daughters. She loved the arts, especially painting and sculpture, besides music. She loved nature, especially birds, and was an avid gardener.
Over the years she was a member of the Yellow Springs Senior Citizens, Glen Helen Association and a supporter of Chamber Music Yellow Springs.
More than anything, she loved people. Everyone who enters Friends Care Assisted Living will miss seeing her sitting at the door, where she loved to see everyone coming and going.
Velma was preceded in death by her husband, Marin; her parents, Eva and Tom Tucker; and two brothers, Paul and Michael Tucker.
She is survived by her daughter and son-in-law, Barbara and David Oldham of Brooklyn, N.Y.; her daughter, Deborah Duvall of Yellow Springs; her brother and sister-in-law, Clem and Ruth Tucker of Sioux Falls, S.D.; her sister-in-law, Marilee Duvall Harris, Oxford, Ohio; two half-brothers, Gene Bullard of California, and Richard Bullard of Texas, and nieces, nephews and cousins. The family asks that in lieu of flowers, donations be made to the Glen Helen Association, 405 Corry Street, Yellow Springs, Ohio. A memorial service will be announced at a future date. Private interment will take place at the Duvall family plot in Arlington Cemetery, Mt. Healthy, Ohio.