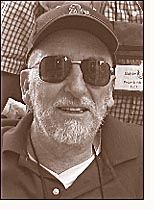 Up out of the Mississippi Delta in and around Bluesman BB King territory, David Lamont Landes was born in 1941. His parents, Art and Margaret Landes, worked as organizers on the Delta Cooperative Farm in Clarksdale, (Coahoma County) Miss., and with the Southern Tenant Farmer's Union in Abbeville, S.C. In 1946, David's family moved to Yellow Springs, Ohio.
He died unexpectedly on Oct. 13, 2008.
Following graduation from Bryan High School in 1960, David attended Swarthmore College. In 1961 he transferred to Antioch College in Yellow Springs. The next year he survived a spinal cord injury and lived 46 more years as a spirited quadriplegic and disability rights activist. After graduating from Antioch in 1965, David attended Washington University in St. Louis, Mo., where he received his Ph.D. in economics.
He joined the faculty of San Jose State, in 1969 as part of a group of economists devoted to teaching economics relevant to the less affluent majority of the world. He was part of a group of radical economists "dismissed" from SJ State in 1974 and went on to become a "Freeway flyer," serving on faculties at Foothill, Indian Valley and Sonoma State. David was a founding member of the Union for Radical Political Economics (URPE).
His life reflected the ways in which people with disabilities broke barriers and paved new avenues for social justice. David traveled extensively with the Disabled International Support Effort (DISE) to Nicaragua, El Salvador and Cuba, conducting workshops and delivering medical supplies. For several years, he served as coordinator for student affairs at the computer technologies program in Berkeley, Calif. David was also an interviewer/editor for the UC Berkeley Bancroft Library Oral History Project on the disability rights movement. Along with serving on the board of the Oakland Men's Project, he was appointed to the Mayor's Commission on Disabled Persons in Oakland, Calif.
In the 1990s, he was a member of Quadzilla, a Bay Area rugby team for people with disabilities. For the past year, David was actively involved in efforts to save Antioch College. Although he referred to himself as a lapsed Quaker, his daily life evolved around its core vision and principles of conflict resolution, peace and unwavering social justice.
His love of baseball was as unyielding as the work ethic he brought to teaching thousands of students micro and macro economics. From 1996 to his death, David served as an instructor at City College of San Francisco Department of Social Science. Six years ago, he predicted the burst of the housing bubble and railed against the economic policies now strangling the country, as well as other economies around the world.
The ultimate mensch, and at ease with the highs and lows of life, he was just a "cool dude" and a fabulous father who lived to tell about his daughter's tumultuous teenage angst and celebrate her graduation from Mills College, at age 36.
He is survived by his wife of 22 years, Daphne Muse; brothers, Don Landes (Santa Cruz, Calif.), Michael Landes (Eugene, Ore.) and Phillip Lawson (Rome, Ga.); daughter, Anyania Muse (Woodstock, Ga.); nephews Matt Landes and Devin Landes; nieces Talia Landes and Crista Lawson; and his grandchildren, Maelia Jones and Elijah Jones; sisters-in-law, Deborah Marks (Santa Cruz, Calif.) and Nancy Callaghan (Eugene, Ore.); and Betty Goshen Muse, his deeply cherished mother-in-law. He is also survived by a host of family, friends and colleagues around the world. A celebration of his life is pending.
In growing his legacy, contributions can be made to the David Landes Scholarship Fund, c/o 2429 East 23rd Street, Oakland, CA 94601-1235.