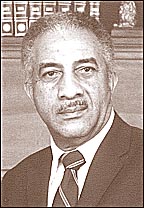 L. Shelbert Smith, Ph.D., of Yellow Springs died on Monday, Sept. 29, in Springfield Regional Hospital. Shelbert was the second of two children born to the union of L. Shelbert and Hazel Tucker Smith, in Springfield, Ill. He was pre-deceased by his parents, his sister Eileen Smith Ford and granddaughter Arla Smith.
Dr. Smith received his early education in the elementary and secondary schools of Springfield, Illinois. He continued his education at the University of Illinois, interrupted by three years of service in the United States Army, where he served as a medic at Fitzsimmons Army Hospital and in the Asian–Pacific theater during World War II. Upon his discharge from the service, he enrolled at Roosevelt University in Chicago where he earned a bachelors degree in chemistry and physics. While employed at Quaker Oats Research Laboratory, he enrolled in graduate school at Illinois Institute of Technology, where he earned both a masters and Ph. D. degree in organic chemistry.
Shelbert remained at Quaker Oats for 12 years as a research chemist and group leader, later moving to Stepan Chemical company, a major producer of chemicals for the detergent industry. He had many publications in refereed scientific journals and several patents in the field of furan chemistry, nitrogen chemistry and carbene chemistry. Some of his research interest included synthesis of compounds for treatment of sickle cell anemia and chemiluminescence. He was co-author of books on furan chemistry and experimental chemistry.
In 1957, he accepted a position as associate professor in the chemistry department at Central State University where he remained for 32 years, retiring as professor emeritus. During the Central State years, Shelbert secured many highly funded grants to support the Central State chemistry department, faculty and students. He felt great pride that most of those undergraduate students pursued advanced degrees and made achievements in the field of science. During his tenure at Central State, Shelbert was given a two-year leave of absence to work in Washington, D.C., with the American Association of University Professors as an associate secretary. This assignment was the direct result of his concern for the governance of historically black colleges and universities.
Shelbert's active involvement in the Yellow Springs community began in the 1960s with the civil rights activity in the Village. In the '70s he filled an unexpired term on the Yellow Springs Board of Education and then was elected and served for six years. Upon retirement he became a member of the after-school tutoring program in the high school as well as the in-school tutoring at the elementary school; a board member and president of the Yellow Springs Senior Center; board member of Friends Care Center and Greene Inc. He was a charter member of the Yellow Springs Men's Group.
Shelbert gave service to the larger community. He served on the admissions committee for Wright State University Medical School for 16 years. He was a board member of National Science Foundation, Board of Review (chemistry) choice; fellow, American Institute of Science, emeritus, American Chemical Society. His honors included membership in Sigma Xi; Phi Lambda Upsilon, and Beta Kappa Chi Honor Society. He was recognized as the Outstanding Scientist of Dayton Area by Dayton Area Science and Engineering Council. He was a member of Kappa Alpha Psi, the Couples Club and the genealogy group.
Shelbert leaves to cherish his memory his wife of 50 years (August 16, 1958), Frances Beal Smith, and their two children, Tamara Frances of Yellow Springs and Lynn Shelbert (Victoria Brookshire) of Kettering, and Leslie Kelley of Chicago, daughter from his first marriage; grandchildren Aaron and Alexis Smith of Kettering; a niece, four nephews and a host of cousins and friends.
In honor of Shelbert's request no services will be held. Our hope is that all who knew him will remember "Smitty" as he lived.
The family will receive friends at a gathering at the Yellow Springs Senior Center, 227 Xenia Avenue, on Sunday, Oct. 12, from 3 to 5 p.m.