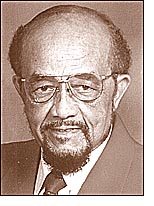 Lawrence J. Abrams, Sr., died suddenly on Sept. 27 at Greene Memorial Hospital. He was 79.
Born March 12, 1929 in Boston, Ga., to the late Jordan and Allie Mae Brown Abrams, Abrams was the youngest of 13 children. Abrams grew up in rural south Georgia and was restless to explore what life had to offer. A young professor, Dr. Anderson, recognized his agricultural talents and encouraged him to reach for higher education. On faith, Abrams ran away from home to gain a bachelors degree in agricultural education from Fort Valley State College, later returning to his community to teach and work with farmers to improve their businesses. For over seven years he taught local high school students, earning Teacher of the Year awards from both state and county officials.
Abrams was recognized by the Erwin County Georgia Board of Agriculture for developing an innovative process to bulk cure sweet potatoes, an idea which ultimately led to the commercialization process used today. He worked tirelessly to teach African American farmers how to maximize revenues by diversifying through crop rotation. With a belief that communities drive progress, in 1964 he moved to a position as executive director of the Community Action Agency, where he spearheaded implementation of the first Headstart programs in Brevard County, Florida.
In 1969, armed with a masters degree from Tuskegee Institute, he migrated with his young family to Yellow Springs on a Ford Foundation Fellowship, where he studied college development at Antioch College for two years. He diverted from his plans to return to the south to remain in Ohio to help Wright State University develop a buildings and grounds plan for its expanding campus. Along the way, he used his gifts to hire and encourage many young people to remain in school, often allowing struggling students to bunk on an empty family couch.
Seeing expansion in the Wilberforce–Xenia area, Central State University tapped him on the shoulder to help beautify the tornado-stricken campus. Abrams worked at Central State for many years. In 1985 he decided to pursue several entrepreneurial opportunities (landscape design, aqua culture research, commercial grilling), never really settling down to retirement. Many of his waking hours were spent sharing his passion for the outdoors and the land with neighbors and grandchildren.