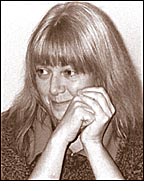 Mary Louise Doyle passed away at her home in Xenia on August 26. She was 54. She had been preceded in death by her parents, Charles and Virginia Doyle.
Mary was born November 13, 1953. She attended St. Brigid School and parish, became a spelling bee champion in junior high school, and traveled to Washington, D.C., for the national championship. She was valedictorian of the class of 1972 from Carroll High School, and in 1986 she graduated from Wright State University with a degree in communications.
Mary spent a decade working for the Greene County Prosecutor's office, and served a brief stint running the Greene County Easter Seals Association. However, she found a simpler lifestyle more rewarding and became a welcoming fixture at Xenia Shoe and Leather in downtown Xenia.
Mary was a knowledgeable and avid collector of vintage clothing. She loved her cats and took excellent care of the animals that found their way to her home. She also learned and practiced Reiki. An incisive intellect, she filled in most crossword puzzles as quickly as she could write in the answers, and was unbeatable in Trivial Pursuit.
Mary was warm and generous, helping friends in need and occasionally volunteering and contributing to worthy causes, including a local animal sanctuary. She became a member of a small group of investors who sought to invigorate downtown Xenia. Loving music, she was a strong supporter of WYSO, both in time and money. She also was a moderator to several Internet user groups. Her sense of charity and sympathy for the downtrodden even extended itself to becoming a scorekeeper for a congenitally inept softball team in the Yellow Springs Community League. Mary had no children or close family. But she left behind many friends who are already missing her, and always will.
A funeral service was held on Wednesday, Oct. 8, at St. Brigid Catholic Church, in Xenia. An informal memorial gathering will be held at the meeting room in the Yellow Springs Library at 1:30 p.m., Sunday, Oct. 12. For information, call 766-4881 or e-mail TimblinJ@yahoo.com.