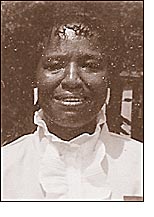 Zerlean "Zee" Upshaw of Springfield died on Sunday, Jan. 25, in Springfield Regional Medical Center, High Street Campus. She was 71.
She was born March 5, 1937, in Aiken, S.C., to the late Lafayette and Thelma (Smith) Andrews.
Zerlean provided very loving baby-sitting services for many children in the city of Springfield. She retired from Heartland of Springfield after 21 years of service as a very caring nurse assistant.
Zee was preceded in death by two children, Felice Sapp and Joseph Andrews; her parents; three sisters, Pearl Harper, Betty Woods and Diane Andrew; and one brother, Lafayette Andrews.
She is survived by her children and their spouses, Glen and Daisy Andrews of Cincinnati; Roberta (Kingsley III) Upshaw-Perry of Yellow Springs; Terri Upshaw-Darby; Benneta Upshaw-Davis and Kathleen "Kathy" Upshaw all of Springfield; two loving stepchildren, William Michael Upshaw of Dayton and Nina Clark of Toledo; three sisters and brothers-in-law, Thelma and Willie Mack of Jamaica, N. Y., Denise and Johnny Jones of Springfield Gardens, N.Y., and Edith Townsend of Waco, Texas; one brother and sister-in-law, Abraham and Ruth Andrews; one uncle, John Williams; one aunt, Bertha Smith; two sisters-in-law, Mary V. Upshaw and Roberta R. Upshaw of Springfield; 27 grandchildren and 13 great grandchildren; a host of adopted children and grandchildren; friend, Robert (Bob) Williams; special friends, Sharon Medors, Debbie Johnson, Marie Allen and Auybu Moyo.
Funeral services will be held on Thursday, Jan. 29 at St. John Missionary Baptist Church, Mulberry side. The viewing will begin at 10 a.m. with the family present from noon until the time of the service at 1 p.m. Pastor Ernest Brown Sr. will deliver the eulogy. Burial will follow at Ferncliff Cemetery.