Chick, Malone favored at state
True to their status as favorites in their respective district Division II races on Saturday, Feb. 21, freshmen Elizabeth Malone and Erika Chick did not let down their fans. The two lone swimmers for Yellow Springs High School managed three first-place finishes and one third-place finish to come in 11th out of 38 schools in the southwest district.
The girls will swim in the state preliminaries on Friday, Feb. 27, beginning at 9 a.m. at the Branin Natatorium in Canton. The finals will take place the following day, again beginning at 9 a.m. at the natatorium.
Swimming her signature freestyle events at district, Chick blasted through the 200 with the first touch in 1:54.37, two and three seconds ahead of seniors from Cincinnati Country Day and Alter. But Chick wasn't done yet. She wasn't even tired. So she whaled on the competition in the 500 free to win by a voluminous gap in 5:06.70, separated from her flagging foes by a full seven seconds. Her wins earned the Bulldogs 20 points each.
Then Malone stepped up to grab another win in the 100 butterfly, which she finished in 58.86, ahead of a senior from Wyoming and a junior from Clinton Massie. Malone then finished a close third in the 200 individual medley in 2:12.17, just behind swimmers from Cincinnati Indian Hill and Arcanum.
Malone, who started swimming at the age of seven, does two-a-day practices with her club team in Springfield and was "shocked," she said, to have won her event at districts. She has worked hard this year to drop her times to the most recent personal record, and she was also fueled by friends who were "literally screaming in my face and cheering for me to go faster," she said.
Chick goes into state competition in third place for the 200 free, and fourth place for the 500 free. Malone is favored for third place in the state race for the 100 fly, and ninth for the 200 IM.
Boys basketball upsets Bethel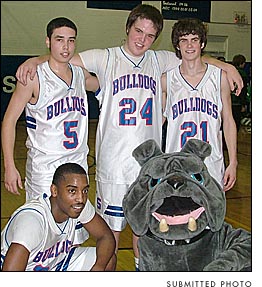 In the last regular game of the season, the YSHS boys basketball team beat the Bethel Bees 65–54 on senior night Saturday, Feb. 21. The Bees came to town with a 13–6 record and number-three seed in Dayton District 3 sectionals. But the Bulldogs came out of the gates hungry for a win and pummeled Bethel 22–10 in the first quarter. Yellow Springs held its lead throughout the game, despite a late comeback attempt by Bethel in the last period.
"Our seniors showed tremendous leadership Saturday night," Coach Brad Newsome said. "The seniors set the tone with good defense and took their time on offense. I'm excited about how we were playing heading into the tournament."
Raphael Allen had a career high 19 points followed by nine rebounds, six steals and three assists. Kevin Sikes-Gilbert put up 12 points, four rebounds, three assists and three steals. Joe Fugate had five points and five rebounds. Tyler Fox was solid on defense and had five deflections that led to steals.
The juniors on the team made every effort to send the seniors out with a bang. Ryan Newsome added 11 points, nine rebounds and five steals. Ian Wimberly did his part too with eight points and four steals while Will Ripley put in eight points and pulled down eight rebounds.
The Bulldogs head to tournament play against fourth-seeded Tri-Village on Saturday, Feb. 28, at Vandalia Butler High School at noon. Presale tickets are on sale at YSHS for $5. Tickets at the door are $7.
The YSHS boys freshman team knocked off the Alter Knights of Kettering 48–39 last week to improve to 11–1.
Girls basketball loses last game
The Lady Bulldog basketball team traveled to Spring Valley Academy last week looking for the last regular season win, but it was not to be. The first quarter against Spring Valley was low scoring, but in the second quarter, Yellow Springs' longstanding foe, Spring Valley went ahead 19-7 to command the game. Yellow Springs was again outscored in the third quarter, and though Alex Beer led a 10-point comeback in the final period, the team could not pull through victorious. Stephanie Scott led the team in scoring with 15 points, followed by Beer's 10 points and Jessica Kellar's eight points. Melodie Wright scored three points, but pulled down 13 rebounds. Ashanta Robinson did not play due to an ankle injury.
The girls play the first round of sectionals against Ansonia at Brookville High School on Saturday, Feb. 28, at 6 p.m.