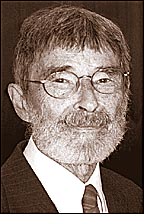 Louis Gleed King, an Antioch College faculty member from 1955 to 1989, died of cancer on Hilton Head Island, S.C., on Feb. 10. He was 83 years old.
He was born to Francis C. King and Jeannette Gleed in Harbor Beach, Mich., on Aug. 13, 1925, and grew up in Detroit and Rochester, Mich.
He graduated from Rochester High School in 1943 and enlisted in the navy. After his service, he enrolled at Antioch and graduated in 1951. Like his great-grandparents, James Greer and Julia Gilmore, he met his wife, Ruth Hameyer, at Antioch. They were married in 1953. He earned a masters from Wayne State University and did further graduate work at New York University. He taught school in Ferndale, Mich., for four years before returning to Yellow Springs as director of the Antioch School and professor of education.
While a student at Antioch, he was active on campus and served as co-chair of the race relations committee with Coretta Scott and as assistant community manager. He was an active participant in the local civil rights movement, and could be found regularly on the barbershop picket line.
Since his retirement, Louis and Ruth have been social activists on Hilton Head Island. They organized the first ACLU chapter and Louis served for many years on its board; they started a Democratic Club on the island; they were members of the Martin Luther King Jr. celebration planning committee for 15 years; they participated in the attempt to organize workers in the resort industry and worked for the removal of the Confederate flag from the statehouse in Columbia. Louis was a precinct chair and headed the Democratic Club's highway clean-up program. He was a founding member of Hilton Head for Peace.
He was the father of five children, all of whom grew up in Yellow Springs and three of whom also graduated from Antioch College.
Louis is survived by his wife and children, Douglas King and Betsy Higgins of Florence, Mass.; Sari King Lindauer and Saul Lindauer of Hollis, Maine; Lisa King Palmer and Scott Palmer of Oregon City, Ore.; Aaron King of Seattle, Wash.; and Peter King and Lissie Fein of Easthampton, Mass.; and 10 grandchildren, Shani and Iris Higgins and Grace King; Ona, Sam and Gaelyn Lindauer; Norah and Roslyn Palmer; and Oliver and Phoebe King; and three nieces and a nephew.
Memorial contributions in Louis' name may be sent to: College Revival Fund, P.O. Box 444, Yellow Springs, OH 45387. Indicate fund for an Independent Antioch College on the memo line.