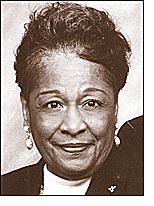 Hazel Louise Johnson of Yellow Springs died Feb. 15. She was 83. Born in Dayton, Ohio, she was a resident of Yellow Springs for over 47 years.
Louise was a wonderful wife, mother, grandmother, great grandmother and friend, but above all she was special to all who knew her. She was a devoted member of First Baptist Church in Yellow Springs.
She is survived by a devoted and loving husband of nearly 61 years, James Johnson; sons and daughters-in-law, Roger and Helen Johnson, and Dwight and Arvella Johnson; grandchildren and their spouses, Monique and Dennis Marquardt, and Ryan and Janine Johnson; great grandchildren, Jasmine, JaNalise, Makeda and Dennis James; a devoted cousin, Virginia Taylor and numerous other relatives and friends.
Visitation will be held on Saturday, Feb. 21, from 9:30 to 11 a.m. followed by a celebration of life at First Baptist Church, 600 Dayton Street, Yellow Springs. Interment will be held on Monday morning, Feb. 23, at Dayton National Cemetery.