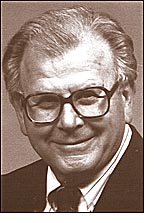 A well-loved and respected husband, father, businessman and community leader, Ray Schiff died peacefully of natural causes on Feb. 10 with his loving wife, Char, at his side. He was 82.
Ray was born on March 16, 1926, to Isidore and Lina Schiff in Englishtown, N.J. He grew up on a small farm in New Jersey alongside his older sisters, Florence and Sophie.
As a young man, Ray spent a brief time at Rutgers, during which he "majored in bridge." He then joined the army and served on a tank destroyer in Germany near the end of World War II. With help from the GI Bill, he returned to Rutgers after the war, finished his BS degree and married Corinne "Corky" Schiff.
Hoping to make a career in teaching, Ray pursued a masters in history at the University of Arizona. Along the way, he learned his passion was not teaching high school. He opted for another form of teaching — marketing.
After graduate school, Ray joined Beckman Optical and worked up and down the east coast, including the Yale School of Paleontology, where he began a lifelong fascination with dinosaurs.
In 1957, Ray came to Yellow Springs, where he joined YSI. Ray helped engineer a dealer network for YSI products, and recognized that the company's dissolved oxygen meters could be applied to the growing water quality market. He made fundamental contributions to the development of a new line of instruments to serve these purposes, and also helped develop a line of instruments that used enzyme-activated sensors for medical and food chemistry applications.
Ray also developed a world-wide network of dealers to handle YSI's growing export sales. As an officer and board member, Ray helped the company grow and flourish for over three decades.
In addition to YSI, Ray served on the boards of Vernay Laboratories, Inc. and Anthropology Research Projects, Inc. (ARP). He was instrumental in transitioning ARP from a unit within Webb Associates to its own independent corporation. He also served with distinction on the boards of the Yellow Springs Community Foundation and Temple Sholom, of Springfield.
In 1977, Ray lost Corky to breast cancer. He was fortunate to find another true love in Charlotte. They were happily married in 1979 and were lucky to spend the next 29 years together side-by-side, right up to the end.
Ray loved to read, to dabble on the computer, to learn about dinosaurs or enlarge his collection, to travel the world, to dine at great restaurants and to enjoy entertaining friends and family at home, showcasing Char's excellent culinary skills. He was a formidable card player, enjoying bridge and poker in particular.
Ray is survived by his adoring wife, Char, and their collective children and grandchild: Toby and Judi of Santa Cruz, Calif.; Susan of Yellow Springs; David, Alicia and Carly of Middleton, Wisc., and Dan of Berkeley, Calif., as well as many nieces, nephews, cousins and friends.
In lieu of flowers, donations may be made in Ray's memory to the Yellow Springs Community Foundation, the Dayton Art Institute or Temple Sholom of Springfield.
The family thanks the many friends who have reached out to help during Ray's extended illness.
A service in Ray's memory was held on Feb. 12 at Temple Sholom. An additional community memorial service will be held this spring, details pending.