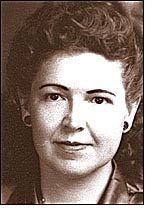 Virda May Womacks, died on Saturday, Jan. 31, in her home, surrounded by her family and friends. She was 88.
Born on July 20, 1920, in Breathitt County, Ky., a daughter of William and Nancy (Banks) Oliver, Virda was one of the sweetest spirits ever encountered — tremendously selfless and devotedly loving.
Virda always thought of others first. On trips to the grocery store there was never anything on the shopping list involving her preferences, only the favorite items of everyone else. She was the type of person who considerately took a ticket number at the deli counter even when no one else was in line; who would sit for hours with folded hands waiting for what she needed; who never fussed for a turn to speak; and who expressed profuse gratitude at the smallest of gifts. She was the heart of her home — even her husband called her "Mother" out of respect for this — and she fluttered a protective wing around all those dear to her.
Virda loved her husband, Bob, with a quiet but ferocious fire. For 61 years she took care of him, listened with patience and affection to his tales (and tall tales), and tried to bridle him from mischief.
"I believe in marriage," Virda once said, a simple conviction that inspired her life.
She was preceded in death by her parents; husband, Robert B. Womacks, on Jan. 10; brothers, Richmond, Clay, Hayden and Judge Russell Oliver; and sisters Georgia Lou Oliver and Mattie Oliver.
She is survived by her son and daughter-in-law, Jerry and Paula Womacks of Yellow Springs, Ohio; two sisters-in-law, Pauline Clark of Xenia, Ohio and Marjorie Said of Arizona; and several nieces and nephews.
Memorial contributions may be made in her memory to the Hospice of Dayton, 324 Wilmington Avenue, Dayton, OH 45420.