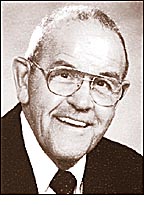 William Warren See of Springfield died Saturday, Feb. 21. He was 93. He was born June 15, 1915, in Yellow Springs, Ohio, a son of William N. and Estell (Ford) See.
William was a 1934 graduate of Yellow Springs High School and a member of the Masonic Anthony Lodge in Springfield since 1953. He was also a member of the Covenant Presbyterian Church since 1953 and enjoyed fishing, hunting and mostly spending time with his family.
William had a passion for selling cars and did so all over the Miami Valley starting at Ellis McClure on April 1, 1951, and later, Baker and Ice Motors in Springfield. He worked his last 25 years for Key Chrysler Plymouth in Xenia before retiring in 2008, and had sold over 10,000 new cars throughout his career.
William is survived by his wife of 62 years, Marcella (Robinson) See; two sons and daughters-in-law, David William and Cherie' See, and Douglas Newman and Susan See; grandchildren, Michael, Matthew and Carlie See and Jordan and Kelly See; sister, Betty Myers; sister-in-law, Arillas See; and numerous nieces, nephews, extended family and friends.
Visitation will be held from 6 to 8 p.m., Friday, Feb. 27, in the Jackson Lytle Williams Funeral Home, Yellow Springs, where service will be held at noon, Saturday, Feb. 28, with Pastor Walter Mock officiating. Interment will follow in Ferncliff Cemetery.