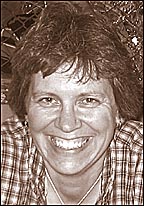 Jana R. Banks, M.D., of Springfield, passed away in her home surrounded by family on Thursday, March 5. She was 47.
The daughter of Robert I. and Julia A. (Wald) Banks, she was a devoted daughter, sister, aunt and friend.
Jana was a physician specializing in emergency medicine for 18 years. She was a chief resident of emergency medicine at MetroHealth Center and flight physician for Metro Life Flight in Cleveland, Ohio, from 1993–1994; attending physician (1994–2007) and assistant director (2000–2007) of the Emergency Department, Mercy Medical Center, Springfield, and assistant director (2007–2008) of the Emergency Department, Fayette County Memorial Hospital, Washington Court House.
Jana began her medical career as a paramedic in 1979, thereafter serving in many capacities culminating as a renowned physician and the medical director of the Enon/Mad River Township EMS. Her professional memberships include the American College of Emergency Physicians and the Emergency Medicine Residents' Association.
Jana was preceded in death by her mother.
She is survived by her father; her best friend, Paula J. Rich; four sisters and three brothers-in-law, Jade M. Banks of Falls Church, Va., Jule A. and Kernie Moore of Davisburg, Mich., Joan I. and George Falldine of Warner Robins, Ga., and Jolyn B. and Michael Verbillion of Springfield; brother and sister-in-law, Robert C. and Donna Banks of Jacksonville, Fla.; and six nieces and nephews, Jessica Banks, Christian Falldine, Meagan Verbillion, David Falldine, Grace Falldine and Claire Moore; and countless friends and colleagues who will miss her dearly.
A mass of Christian burial was held Saturday, March 7, in the St. Paul Catholic Church, 308 Phillips Street, Yellow Springs, with interment following in Enon Cemetery.
Jana's family asks that contributions be made in her name to the Raymond Foundation c/o Mrs. Holly Dicke, 501 Harrington Drive, Plain City, OH 43064 with the notation "Jana Banks Honduras Fund."