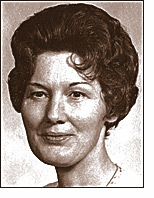 Wilma Lea (Boyd) Willis, of Yellow Springs, died Tuesday, March 17. She was 75.
She was born Aug. 1, 1933, a daughter of Elza and Hazel (Euton) Boyd in Rarden, Ohio. Wilma was a member of the Pleasant Grove Missionary Church in Yellow Springs.
Wilma was preceded in death by her parents; two sisters, Mary Stunich and Jane Gasho; one brother, Michael Boyd; and one grandson, Willis Lookabaugh.
She is survived by her husband of 58 years, Simeon Willis; children and their spouses, Beverly Hasser of Columbus, Victoria and Paul Phillips of Springfield, Allen and Lisa Willis of Tipp City; eight grandchildren, Shannon Hasser, Jerod Lookabaugh, Jennifer Browning, Nicole Thatcher, Lynsey Willis, D. J. Schonborn, Caleb Tate, Payton Willis; eight great-grandchildren, Joy, Jacob, Jackson, Jaylen, Madison, Jaden, Cayson and Elena; sister, Ruby Dean of Xenia; two brothers, Jonathan Boyd of Dayton and Jerry Paul Boyd.
Visitation will be held from 5 to 8 p.m., Thursday, March 19, in the Jackson Lytle Williams Funeral Home, Yellow Springs. Services will be held at 11 a.m., with one-hour prior viewing in the Pleasant Grove Missionary Church, 491 West Hyde Road, Yellow Springs, with Pastor Kenneth Moore officiating. Interment will follow in the Glen Forest Cemetery.
In lieu of flowers, contributions may be made to the Friends Care Center, 170 East Herman St., Yellow Springs, OH 45387.