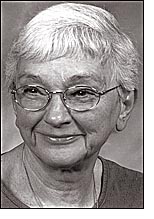 Longtime resident Ann (Amon) Grote of Yellow Springs died at her home on Thursday, April 15. She was 79.
Ann was born on June 29, 1930, in Perrysburg, Ohio to Agnes and John Amon. She moved to Yellow Springs when she was in the seventh grade. She graduated from Catholic Central High School in 1948 and married Jack Grote on April 25, 1953. Self-employed, Ann and her husband owned and operated Grote's Dari Korner for 23 years. In her retirement, she volunteered at church and enjoyed time at home with her family.
Ann was preceded in death by her husband, John "Jack" Grote and her siblings John Henry Amon, Robert Amon, Donald Amon, Jimmy Amon and Agnes Mercurio. She is survived by her children Suzanne Grote, John Grote and Liz Blakelock, Lisa and Tony Neubauer and Chris and Terry Grote; and her grandchildren Erin and Jackson Grote, as well as many nieces and nephews.
A mass of Christian burial was celebrated on Monday, April 19, at St. Paul Catholic Church. Burial in St. Paul cemetery followed the service.