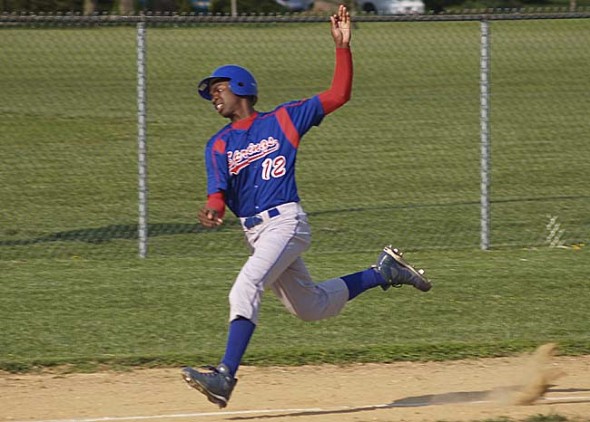 Ameer Wagner was tagged out attempting to score in a play that gave the Bulldogs their only run in yesterday's game against Middletown Christian. The score was 15 to 1. (Photo by Nick Dudukovich)
Bulldogs fall to Middletown Christian
The Middletown Christian Eagles bats were too much for the hometown Yellow Springs Bulldogs to overcome Tuesday, April 13, at Gaunt Park.
The Eagles left the village with a 15–1 victory.
Middletown was led by starting pitcher Kelly Robinson, who recorded three strikeouts in the first two innings. Robinson's only mistake came in the bottom of the first when he threw a high fastball to Bulldogs centerfielder Ameer Wagner, who hit the offering to right-center field over the head of Eagle defenders, driving in Lucas Donnell from second base. The play gave the Bulldogs their only run of the game.
"I was just trying to get contact on it," Wagner said after the game. "It was a regular fastball and I got a hold of it pretty well."
Wagner made it to third on the play, but was waved home by the Bulldogs' third base coach. Wagner was tagged out at the plate after admitting to not finishing the play well.
"I didn't really get a good slide down there," he said. "I [slid] way, way too early."
Donnell, who was the starting pitcher for the Bulldogs, struggled to keep the Eagles at bay.
Leading 4-1 in the top of the second inning, the Eagles hit back-to-back-to-back doubles, increasing their lead to 8-1. The team from Middletown never looked back, adding two runs in the fourth, and five in the fifth.
"That team had some incredible hitters," Bulldog coach Ted Donnell said. "Their first five or six batters were unbelievable. They could hit anything."
Defensive woes also hurt the Bulldogs, who let innings be extended because of errors. Despite the errors, Donnell thought his team played a better overall game than they had previously..
"I really thought we improved. We're making some plays we didn't make before and our kids our getting more confident,' he said. "That's our third game of the year, as long as we are improving, and the kids are having fun, I don't care."