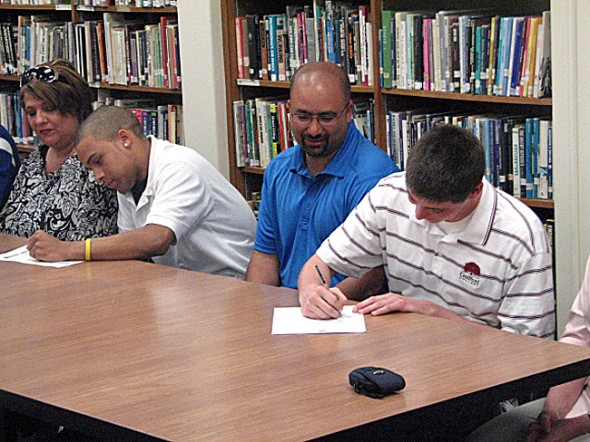 YSHS varsity basketball coach Brad Newsome joined Ian Wimberly, left, and Ryan Phillips, right, at the signing event on Friday, when they committed to playing college basketball for their selected colleges. (photo by Nick Dudukovich)
Two seniors commit to playing college ball
On Friday, April 16, Yellow Springs High School seniors Ian Wimberly and Ryan Phillips signed letters of intent to play college basketball next season. Wimberly will attend Urbana University and Phillips will lend his talent to North Carolina's Guilford College. The two seniors made their intentions official in front of friends and family gathered in a crowded high school library.
Both players look forward to pursuing their academic and athletic goals, but will miss suiting up for the Bulldogs.
"I'm really excited to go to a prestigious academic school as well as a proud basketball program," Phillips said. "I'll miss the family atmosphere with the [team]."
Wimberly, who plans to get a degree in sports management, said he'll also miss the team camaraderie.
"I'm ready to get going and play varsity all four years [at Urbana], but I'm going to miss my boys. We've been playing together since we were in fifth grade."
The boys' parents are also pleased that their sons get to continue their basketball careers.
"He's always wanted to play college basketball," Wimberly's father Maurice said.  He's worked hard at academics and playing ball. "He's shown he has what it takes to play at the next level."
Phillips' mother Denise was just as pleased that her son gets to play basketball beyond high school.
"Basketball is way more than a hobby for him, it's his passion," she said. "He needs to be connected to it. I'm glad he gets to do that, I'm really happy for him."
Before deciding on Urbana, Wimberly also considered Wittenberg University, Allegheny College, and Denison University. Phillips considered the University of Tampa and Grove City University before choosing Guilford.