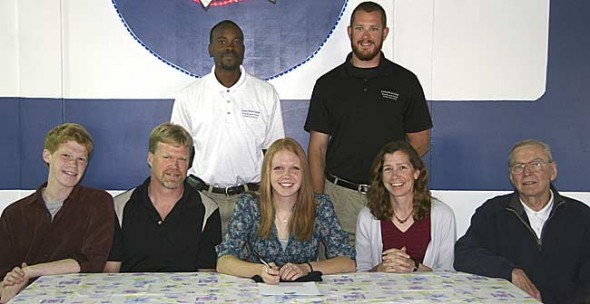 Brickson Signs With Lindsey Wilson College
Yellow Springs High School senior and track and field athlete Reini Brickson signed a college scholarship last Friday, April 23, to attend Lindsey Wilson College in Kentucky. Brickson, captain of this year's team, will compete in both cross country and race walking at the collegiate level. Lindsey Wilson College is located in Columbia, Ky., and is one of the top collegiate track and field teams in the country in race walking.
Brickson plans on majoring in education.
Attending the signing and the pizza and cake reception afterwards were teammates, friends and family from the high school, including YSHS Principal John Gudgel and head women's coach Vince Peters. Pictured are, front, Mitchell, Eric, Reini, Gemi and Milton Brickson, and in back are head LWC T&F coach Edwin Hagan, left, and assistant coach Andrew Hash.