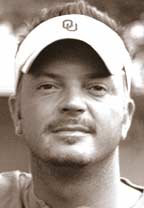 Jason Lee Bingenheimer
Jason Lee Bingenheimer died Friday, May 14. Jason was born in Oklahoma City, but lived most of his childhood through high school in Yellow Springs. At the time of his death, Jason was living near Galveston, Texas, where he worked for Coates Field Service. His permanent residence was in Oklahoma City, where he could spend time with his son, Parker. Jason was a loving father, brother, son, grandson, cousin and friend. He had an amazing ability to bring love and laughter to the lives of those he met. In addition, he was an accomplished musician.
Jason is survived by his father and stepmother, village residents Bob Bingenheimer and Deborah Slater and their daughter Lena; by his son Parker; his brother Steve; stepfather R. D. Harvey; grandmothers Mary Bingenheimer and Dorothy Richardson; niece Carli and an array of aunts, uncles and cousins. A memorial service will be held Friday in Oklahoma City. In lieu of flowers, contributions may be made in Jason's memory to the charity of the contributor's choice.