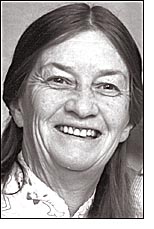 Barbara Elizabeth Hogg Preis died at Friends Care Community on Friday, July 20. She was 83.
Barbara was born on December 22, 1926, in Rangitikei, New Zealand, the daughter of Lewis Gordon Hogg and Bessie Bruce Hogg. Barbara grew up on a sheep farm in Halcombe, New Zealand, and attended Nga Tawa Diocesan School for Girls. As a young girl she had a very close relationship with her father and enjoyed accompanying him on her horse, Brownie, as they cared for the sheep on their farm.
Barbara worked for a dentist in Wellington and as a cook at Nga Tawa and Hato Paora Schools for a number of years. She took care of both of her parents in their later years.
Barbara married long-time Yellow Springs resident Bill Preis on May 10, 1975. They were married by Reverend Ralph Templin at Rockford Chapel. For many years Bill and Barbara enjoyed traveling the world and spending time in New Zealand and the United States. Barbara enjoyed preparing meals and was a gracious hostess when she and Bill invited friends to their home for frequent dinner parties. Barbara was a devoted caregiver for Bill when his health deteriorated.
Barbara was preceded in death by her parents and her brothers Bruce and Hamish and sisters Joan and Betty. She is survived by stepsons Mike Preis and Pat Preis, Pat's wife, Betsy, and their sons Tom Preis and Andy Preis; nephews Richard Hogg and his wife Sally, Alistair Hogg and wife Judy, Dennis Gorton and wife Liz, Ian Gorton and wife Elizabeth and Bruce Dunn; nieces Virginia Hogg and her husband Dennis, Dianne Gorton and husband Peter and many grand nieces and nephews.
The date of the memorial service will be announced.