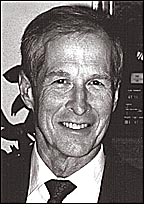 James Lowell Parker, a stroke survivor of 11 years, died July 27 at Friends Care Community. He was 76.
Jim was born July 1, 1934 to Sam and Aline Parker in Versailles, Ill. When Jim was 2 the family moved to Hamilton, Ill. near the Mississippi River, where his dad worked as a diver for the Corps of Engineers. As a teenager, Jim worked two summers on the barges plying the Mississippi — first as a cabin boy and then as a deck hand. He considered himself a "river rat" and was proud of it.
He always had a paper route, played trombone, sang in the high school chorus and took piano lessons. When his dad wanted him to work in the large family garden, Jim would have to "practice the piano."
Jim studied engineering at the University of Illinois, where he received his bachelor of science degree in mechanical engineering and an ROTC commission as a second lieutenant in the USAF. In 1955, Jim married the love of his life, Donna Cottrell. The next year when Jim graduated, he and Donna moved to Dayton. His first job was at Wright-Patterson Air Force Base. After a year as a civilian employee, he went on active duty for the next three years, one of which was at Edwards Air Force Base in California. While there, the couple's first child, Pamela, died of a congenital heart condition. She was 3. One week later, their son Bruce was born.
After leaving the Air Force, Jim and Donna moved back to Dayton and a job at Wright-Patterson. Jim continued his education and received a master of business administration, and later, a master of science in mechanical engineering.
They moved to Yellow Springs in 1974, drawn by its more liberal school system for their three children, two of whom attended Antioch School. Jim was active in community life. He was a co-founder of the Community Experience Program at YSHS, and also active in Community Council and Environmental Control Commission.
He was excited about retiring at age 55 so he could pursue his many interests. As soon as he was 60, he enrolled in liberal arts classes at Wright State, especially enjoying history classes. He took up watercolor painting and continued to play the piano, take backpacking trips and play squash ferociously (he loved to sweat).
In 1983 Jim and Donna joined the Unitarian Universalist Fellowship, where he acted as president from 1989 to 1993. During that four-year period he played a key role in the building expansion and renovation, as well as membership expansion and attracting young families with children.
In 1999 his first stroke left his left arm paralyzed, but he continued playing the piano with only his right hand, and performed "Jingle Bell Rock" with Mitzi Manny at the Fellowship.
Jim tried to demonstrate and instill in his children and grandchildren the motto "I'm always willing to help." As family and friends will attest, he was a kind, thoughtful and generous man whom many will miss. Jim's gentle spirit and dedication to authentic community was a true gift to all who knew him.
Jim is survived by his wife, Donna Cottrell, his son Bruce Parker and wife, Sandy, son Brad Parker and wife, Jenny, daughter Lisa Parker and partner Alan Puckett; by six grandchildren, Kate Wailes, Lee and Kenny Parker, Frances and Grace Greenlee and Sam Parker; as well as two sisters, one brother, many nieces, nephews and dear friends in the community and beyond.
A celebration of Jim's life will be held Aug. 22, 2–4 p.m. at the Glen Helen Building. Those attending are asked to bring memories to share. The family requests that, in lieu of flowers, gifts and contributions in his memory be made to Friends Care Community and the Unitarian Universalist Fellowship of Yellow Springs.