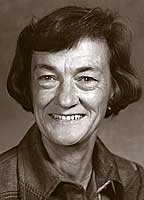 Jean Adams Huston died peacefully on Monday, Sept. 6, at Friends Care Community. She was 91.
Jean was born March 31, 1919, in Stratford, Connecticut, to William and Sylvia Nothnagle. Throughout her high school and college years, Jean was active in choral singing, band, skiing, tennis and sailing. She graduated summa cum laude from Sage College, Troy, N.Y., in 1941. Majoring in marketing, she worked in retail merchandising until her marriage to Tom Huston on February 19, 1942, in Berkeley, Calif.
In 1947, the family moved to Yellow Springs, and Jean immersed herself in home, school and community activities. She enjoyed growing vegetables, fruits and even helped make homemade wine for years. Jean was an avid bird lover and spent hours identifying birds, often by their song. She was instrumental in starting the Yellow Springs village swim program, tennis program and Christmas carol sing. Her many volunteer hours included working at Mills Lawn School, PTA, First Presbyterian Church and Glen Helen Nature Shop. Jean hand-made the family Christmas cards for 51 years. She loved tennis throughout the years, nurturing a love of the game with her family, and played tennis with a group of grandmothers until she was 80 years old.
Her husband Tom, who was also a resident of Friends Care Community, died in 1998.  Her family includes three children, Jill Bock and her husband Peter Monro of Portland, Maine, Bill Huston and his wife Mia Millefoglie of Kennebunk, Maine, and Bob Huston and his wife Tia of Yellow Springs. She also has five grandchildren and two great grandchildren.
A memorial service is planned for a later date.