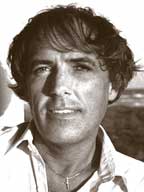 Joseph Charles Francis Brown, of Yellow Springs, formerly of Davison, Mich., died Sunday, Sept. 5, at Friends Extended Care Center with the support of the nurses of Heartland Hospice and surrounded by family and friends. He was 72.
Visitation will be at Jackson Lytle and Williams Funeral Home Tuesday, Sept. 7, 6–8 p.m., in Yellow Springs. The funeral service will be held at St. Paul Catholic Church on Wednesday, Sept. 8, at 11:15 a.m., followed by a luncheon on site. All are welcome. Burial will be in Michigan.
Joseph was born December 31, 1937, in Detroit to Charles and Regina Brown. He worked for the State of Michigan as a licensing consultant for adult foster care homes and was based in Flint. He retired in August, 1996.
Joe's passion for sharing both the Nativity and the Passion of Christ led to years of research, writing, production and direction of hundreds of actors with his plays presented annually as part of Davison Dramatic Theatre, to name one of his theater groups. Some of the cities where he took his plays to be performed include Davison, Chicago, Albuquerque, Windsor and the Fiji Islands. Joe's play continues in both Davison and Belen, N.M., where he started another performance group. Joe was very active in his parish, St. John's Evangelist in Davison, as well as an avid and exceptional gardener.  
In 1969, Joseph married Madge Connaughton, and the couple had three children: Katrina, Thomas and Sarah, all currently living in Queensland, Australia. The couple divorced, and in 1990 Joseph married Patricia Olis. Joe and Pat shared the love of gardening, traveling, researching Joe's ancestry and producing their plays around the world together. The couple moved to Yellow Springs in 2008 and have enjoyed meeting new friends and continuing their gardening projects.
Surviving are his wife, Patricia, children Katrina, Thomas (Nola) and Sarah, beloved grandchildren Kyle Cronkright, Gaven Brown, Collin Cronkright and Bailey Brown; Joseph's children's mother, Madge, his sister, Mary Richey, and brother, Charles, and godson John Charest, along with many nephews, nieces and their children; and life-long friends Jerry and Nancy Terlep, Mary Holcomb, Joe and Chris Giannoni, Ron Nowicki and many more dear friends. He was preceded in death by his father, mother, Aunt DeeDee, friend and brother-in-law Shaun Connaughton, sister-in-law Josephine Brown and nephew David Richey.