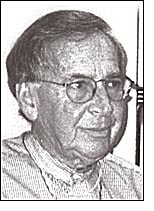 Ralph Heaton Jr. died on Thursday, Oct. 28, at Greene Memorial Hospital. He was 88.
Ralph was born April 25, 1922 in Xenia, the son of Nellie (Simison) and Ralph Heaton, who was a bricklayer. He graduated from Xenia High School in 1940 and married Betty Bales of Yellow Springs in 1942. He served in the U.S. Army from 1942–1945. A member of the 101st airborne division, he was wounded during the Battle of Bastogne, receiving two Bronze Stars and a Purple Heart. After the war he worked at Bales Chevrolet Company in Yellow Springs, first as a mechanic, then as service manager and later as sales manager. He retired in 1976.
In retirement he was an avid golfer, and over the last 25 years he spent the colder half of the year on Hutchinson Island in Florida.
He was preceded in death by his wife, who died in 1979, sisters Mary, Leona and Imogene, and two brothers Earl "Pete" and Roger.
He is survived by three sons and their wives, Ron and Anne Heaton of Baltimore, Md., Tim and Kazuko Heaton of Yellow Springs and Russ and Linda Heaton of Bath Township; six grandchildren; 10 great-grandchildren and longtime friend Ronnie Meyers.
Funeral services will be held on Thursday, Nov. 4, at 2 p.m. at Neeld Funeral Home, 1276 N. Detroit Street, Xenia, followed directly by a military graveside service at Woodland Cemetery in Xenia. The family will hold a reception at Greene County Country Club at 4 p.m. Gifts in his name can be made to the Yellow Springs Tree Committee and the American Lung Association.