BLOG — Symbols of a prosperous 2011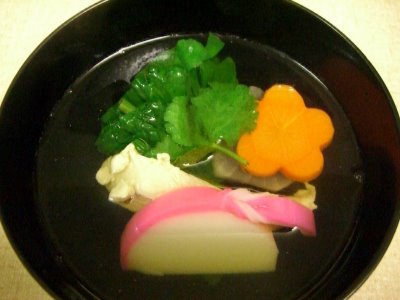 When asked about the meaning of Christmas, my grandmother would always reply with a boisterous step, "Happy Birthday Jesus!" It's about all one could expect from a woman who grew up with Buddha as the household deity, and still thought of going to the shrine as a punishment.
But asked about the meaning of New Year's, and her speech would suddenly assume a more reverent cadence as she filed back through fond memories centered largely on family and mountains of food for that particular occasion. Preparations for the occasion, including a rigorous house cleaning and preposterous amounts of cooking, were taken seriously and had to be completed before the dawn of Jan. 1, lest the purity, goodness and opportunity of the new year be cut or swept away. Even as a child she had said that the work was worth the delicious meals they would eat for two and three days after the celebration events were over.
I've never feted the New Year in Japan, but for the past 50 years or so, Yellow Springs has had its own Japanese New Year celebration. Due to the leadership of former Antioch College President Arthur Morgan and the Vernets of Vernay Laboratories, who sponsored Japanese citizens from the internment camps, a small Japanese community sprang up in the village after World War II. And maintaining a ritual that most of them grew up with, whether in California, Osaka or Manchuria, they've always held a Japanese New Year party at one of their homes in the village.
Though the generation of issei's and nissei's (first and second generation Japanese-Americans) started the tradition before I was born, as long as I have been alive, the Japanese New Year party in Yellow Springs has been held at George and Toshiko Asakawa's home on President Street. And though I also wasn't around to sample the foods that the older generation put out, the spreads I have come to associate with oshogatsu (New Year's) are definitely worth cleaning the house for.
The meal always starts with Mrs. Asakawa's ozoni, clear mochi soup. The clear fish broth symbolizes the purity of the new year, and the mochi in it represents the prosperity that is to come in the new year. Ozoni is often served with kamaboko, a pink and white fish cake (like the colors of the rising sun), bright green spinach and a shiitake mushroom, for a perfect texture and color balance.
Migiwa Orimo always manages to make the perfectly crispy tonaktsu, or breaded veal cutlets with hoisin dipping sauce. This requires maintaining a very delicate balance between taking too many at first and appearing rude, or taking only one and being devastated upon coming back for seconds and finding they're already gone.
Kay Chen makes the most savory noodle dishes, which represent the long, uninterrupted fortune of the coming year. The Chens are from Taiwan, which was formerly occupied by the Japanese. Kay speaks Japanese, CT can drink anyone under the table with sake, and Tina and Andy are spectacularly talented in everything, so they are basically the life of the party.
Sheri Scott, who is Japanese in Western disguise, brings natto, a singular fermented soybean dish of slime I believe I have mentioned before in these pages. I'm not sure about the symbolism of the soybeans, but they're a highly overlooked delicacy and very good for a strong constitution.
The New Year's dinner also often includes nishiki tamago, an egg roulade whose yellow and white parts symbolize gold and silver for wealth in the new year. And tai, or red snapper, whose name in Japanese also means good fortune, often makes an appearance. Sweet mochi made with coconut milk and black sesame seeds is a staple, and frankly, mochi of any kind at any occasion is a must.
While many of the older generations have gone on, there are lots of younger Japanese families who have come to celebrate the New Year with their fellow culturemen and women in the village. Through these events, the traditional foods of Japan live on for the next generation of children to remember and perhaps pass on.
May all this weekend's celebrations in the village foretell prosperity, health and good fortune for all in the New Year.
Long live the rabbit!