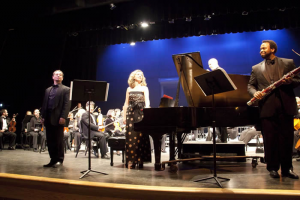 CMYS presents double reed, piano trio
Chamber Music Yellow Springs presents the Poulenc Trio tonight, at 7:30 p.m., at the First Presbyterian Church. The unique ensemble, which includes a piano, a bassoon, and an oboe, will perform a combination of classic repertoire and two recently commissioned pieces. The program includes "Three Etudes," by American composer Thomas Benjamin, and "Yiddish Lexicon," by Jakov Jakoulov, both contemporary works. Pieces by Andre Previn and Shostakovich will also appear on the program.
The Poulenc Trio, according to its Web site, http://www.poulenctrio.com, "is the most active touring piano-wind chamber music ensemble in the world. The Trio's mission is to present thrilling and delightful performances, while expanding audiences for world-class live chamber music. We achieve our goal by touring extensively throughout the U.S. and around the world, through constant outreach to young and under-served listeners, and through a strong commitment to commissioning, performing and recording new works from living composers.
In a recent review, the Washington Post said the trio "does its namesake proud" in "an intriguing and beautifully played program" with "convincing elegance, near effortless lightness and grace."