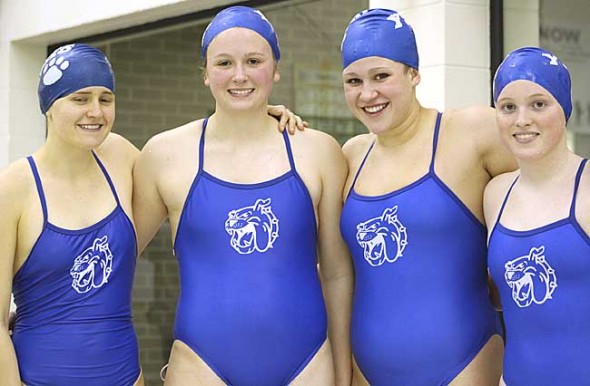 FEB. 3, 2011 Bulldog sports round-up
Boys varsity topples Dayton Christian
The boys varsity basketball team (4–6) defeated conference rivals Dayton Christian (7–6) last Friday by a final score of 67–56 after losing to them by a 30-point margin just two weeks earlier. Dayton Christian was undefeated in the conference before coming to Yellow Springs, where the Bulldogs kept the lead throughout most of the game. Three three-pointers in the final minutes of the first half gave the home team a 31–28 lead they only widened during the second half. Yellow Springs' Greg Felder led the team with 16 points, Isaac Haller finished with 14 points and a career-high 11 assists, Cole Edwards had 13 points, and Tyler Bruntz contributed 12.
Chick, girls relay win conference
The girls 200-yard medley relay team and swimmer Erika Chick will both advance to the sectionals swim meet after winning their races at Saturday's Metro Buckeye Conference Championships. The relay team of Chick, Zoey McKinley, Elizabeth Malone and Rachel Meyer became conference champions with a final time of 2:08.4, while Chick's victorious swim in the 200-yard freestyle was 2:03.11.
Girls varsity basketball lose at home
Last week the girls varsity basketball team lost to Stivers, 52–26, and Dayton Christian, 57–38, to drop to 4–11 on the season. Maryah Martin remained strong for the Bulldogs, nailing five of seven from the three-point line and contributing 18 points against Dayton Christian. Alex Beer had eight points and four rebounds on the night, while Lois Miller nailed her two three-pointers and contributed five rebounds. Against Stivers, Kennedy Harshaw led the team with nine points, seven rebounds and two steals while Beer finished with seven points and Angela Allen added four points and six rebounds.
McKinney girls basketball drops two
The seventh-grade girls basketball team lost at Xenia Central last week, 49–2, with Anna Williamson contributing the basket. The eighth-grade team lost 58–9 as Kara Edwards led the team with seven points and Sophie Davidson finished with a field goal. At Bethel later in the week, the eighth graders lost 27–8. Sophie Davidson and Edwards both finished with three points with Ayeshia Allison scored two points. Their final game of the season is on Saturday, Feb. 5, at home.