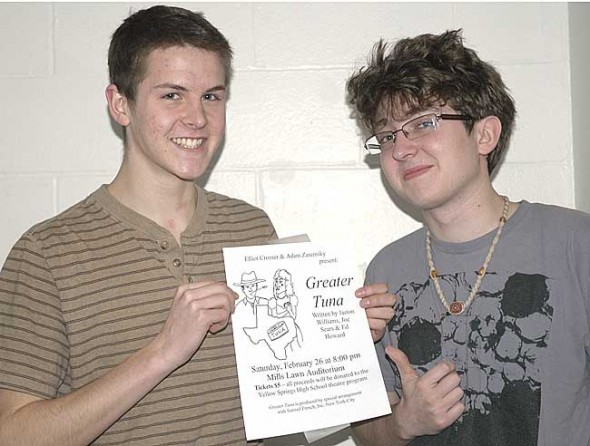 'Tuna' for laughs, to support theater
Due to recent cuts in the school district budget, some students have chosen to use their senior projects as a way to give back to programs that have been important to them, and that now face decreased funding. Two of these students are seniors Adam Zaremsky and Elliot Cromer, who will perform a two-man play, Greater Tuna, for their senior project, with all proceeds benefiting the YSHS theater program.
Zaremsky and Cromer knew they wanted their senior project to benefit the theater program at the high school from the beginning. With the numerous budget cuts, many of the stipends that were used to pay for directors and other expenses are no longer being provided, so there is a much bigger need for funding this year to keep the theater program going, they believe. Due to their history in this program, the pair wanted to do what they could to help.
"Growing up, we've been a big part of the theater program and that's always been there for us and we want to keep that going, or at least do what we can to help. It's theater for theater," Cromer said.
The two seniors also knew they wanted to do a two-man play for their project from the start, and approached Cromer's father, Bruce, who teaches acting at Wright State University, for suggestions. They finally chose Greater Tuna because of its humorous script.
"Everyone is this over-exaggerated stereotypical Texan. They're all just ridiculous and I'm sure Texas isn't actually like that, but it is funny to think about," Zaremsky said.
Greater Tuna depicts a day in the life of the third smallest town in Texas. A variety of different people are portrayed throughout the play in various locations throughout the town, including some who have a different mindset from the typical liberal-minded Yellow Springs resident, Cromer said.
The two seniors have had much to do in preparing for their performance. They began rehearsals two-and-a-half months ago, as both have many lines to memorize. The costumes have been a challenge as well. Zaremsky and Cromer both play numerous characters, so the costumes have to be specially designed so that they can change quickly.
The business aspect of the play also had to be handled by the pair, including contacting the publishing company for the performance rights, making programs and flyers, creating the tech CD with music for the performance, and contacting the principal at Mills Lawn to request the use of the stage.
Zaremsky and Cromer both have a long history in acting, and this will be the 22nd play the two perform in together. They performed in two all-school Mills Lawn productions, six YSKP productions, and 13 YSHS productions, with many of their characters being close friends, Zaremsky said. Due to this history, teaming up for their senior project was natural for them, especially because they both have been heavily involved in theater since childhood. Zaremsky began performing in YSKP at age 6, and Cromer soon followed at age 9. Both attribute family participation in theater as the main reason they both began acting. Zaremsky's two older brothers were also very involved in theater and Cromer has numerous family members who are actors. The pair also looks to continue their acting careers in college.
"I definitely want to act again in my lifetime," Cromer said.
The play will be performed at the Mills Lawn auditorium on Saturday, Feb. 26 at 8 p.m. Tickets are $5 and all proceeds will be donated to the YSHS theater program. Greater Tuna is sure to provide many laughs, while also providing much needed funding for the theater department.
"It's an important part of this high school and an important part of this community," Zaremsky said.
Greater Tuna is produced by special arrangement with Samuel French, Inc. New York City. The play was written by Jaston Williams, Joe Sears and Ed Howard.
Kelsey Cundiff is a senior at YSHS and an intern at the News.