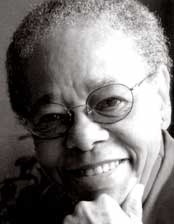 Jane L. Ball died on Monday, March 28. She was 81.
Jane was born Jane Elizabeth Lee on June 2, 1929 in Springfield, Ohio. In 1935, the Lee family moved to Wilberforce, where Jane lived until she graduated from college, and where she returned in 1966 with husband, Wilfred, to teach at Wilberforce University.
Her academic achievements include a bachelor of arts degree in education, English and art from Central State University, and a master of arts degree in English from Howard University in Washington D.C.
Her long and accomplished career as an educator began at Southern University in Baton Rouge, La. She also taught at Alcorn Agricultural and Mechanical College (now Alcorn State University), North Carolina Central University and Ohio State University, before beginning her career at Wilberforce University, where she retired as professor emeritus in 1996 after 30 years. Along with her duties as a professor, Mrs. Ball served as chair of the humanities division for nine years.
As much as she loved education, Mrs. Ball enjoyed fiction and non-fiction writing as well. Despite the demands of career and family, she found time to turn her lively imagination and teaching gifts into words on paper. She wrote more than 100 articles for Salem Press, which publishes award-winning reference works, and also published five books: Toole, Arrigo, A Flea in the Ear, After the Split and ­Glorious to View — the latter two being carefully researched histories of her beloved Wilberforce University. At the time of her death, she had put the finishing touches on her memoir, Ebony Sweet, or Growing Up Colored Before Black Got Beautiful.
The wisdom and gifts of her teaching and writing will continue to influence generations of students and readers. Yet Jane L. Ball leaves a far greater legacy as family and friends remember her grace, delightful sense of humor, creativity, joy for living and giving spirit.
Mrs. Ball is preceded in death by her parents Charles H. and Luella (Simpson) Lee, her sister Mary W. White and her brother Charles Freeman Lee. She is survived by her husband of 53 years, Wilfred, children Janet, Carol (Perry Williams), Wendy (Kevin Felder) and Cris; grandchildren Blakely, Courtland, Chloe, Justin, Drew and Jasmine; great-grandson Shan; nephew John P. White Jr.; nieces Denise Wilkins and Dale White and numerous great-nephews and great-nieces.
The place of interment is Cherry Grove Cemetery in Xenia. A memorial gathering was held Saturday, April 2, at Jackson Lytle & Lewis Funeral Home in Yellow Springs. In lieu of flowers, contributions may be made to the American Cancer Society or other cancer research organization. Online condolences for the family may be sent to http://www.jacksonlytle.com .