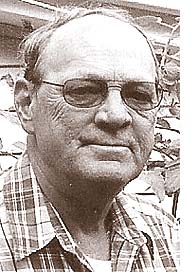 Jerry W. McCoy of Clifton died Friday morning, Feb. 17, at his residence. He was 70.
Jerry was born Oct. 4, 1941, in Xenia, the son of Lester Guy and Helen Walton McCoy. He attended the First Assembly of God in Xenia and was a past member of the Clifton Oldtimer's Club. He enjoyed fishing, hunting and his many trips over the years with family and friends to Lake Ann, near Traverse City, Mich.
Jerry was preceded in death by his parents, Lester Guy McCoy and Helen Walton McCoy DeVoe, by a brother, Billy Stephens, and by Janet Doran, mother of his two sons. He is survived by his wife, Connie (Jones) McCoy, whom he married Oct. 8, 1987, two sons and daughters-in-law, John (Cindy) McCoy of Xenia, and Sam (Amber) McCoy of Grove City, three step-sons, Tim (Beth) Jones and Troy (Tara) Jones of Xenia and Todd Jones of Springboro, six grandchildren, Ryan, Alex, Adam, Cameron, Colin and Madison McCoy, seven step-grandchildren, Cassie, Kiersten, Arianna, Molly, Troy, Jr., Ian and Andrew Jones and by two sisters, Jane Simpson of Ind. and Nancy Fulks of S.C. He is also survived by several nieces and nephews, and by many close friends. Jerry will be greatly missed by all who knew and loved him.
Services were held at 10 a.m. on Wednesday, Feb. 22 at the First Assembly of God in Xenia, with Rev. Ronald Swiger officiating. Visitation was held 6–8 p.m. on Tuesday at Neeld Funeral Home in Xenia. Burial will be in Spring Valley Cemetery. Contributions may be made to the First Assembly of God in Xenia or to Gideon's International, Greene County Gideon Camp, P.O. Box 674, Xenia, OH, 45385. Condolences may be made to the family at http://www.neeldfuneralhome.com.