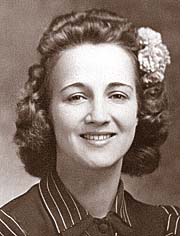 Lottie Leona Bennett Hopkins Lindsey died Tuesday, Jan. 24, at the Edinboro Manor in Edinboro, Pa. She was 90.
Lottie was born Nov. 20, 1921 in West Spring Creek, Pa. She was the fourth of the 10 children of Gary B. and Marian S. Bennett, all of whom graduated from Corry High School in Pennsylvania. She was a faithful wife, mother, sister, daughter, grandmother, great-grandmother and friend. She married Russell Wayne Hopkins in 1942 and had three daughters, Connie Hopkins Howe Ham and Donna Jean Hopkins of Yellow Springs, and Wilma Hopkins Spaulding, (James), of McKean, Pa. She married Neil Lindsey of North East, Pa. in 1972. She was a member of the North East Christian Missionary and Alliance Church until moving to Edinboro in 1998, following the death of her husband, Neil. She was a faithful member of First Baptist Church of Edinboro from that time on, actively involving herself in the Ladies Missionary Group and Ladies Sunday School Class, where she is remembered as feisty and opinionated. She was a loving and doting grandmother and great-grandmother, a wonderful cook and homemaker.
Lottie was preceded in death by sisters Marie Bennett Crum (Edward), Iona Bennett Bennick (James), Marian Bennett Payne (William), Barbara Bennett Sherwood (Louis), brothers Bernard and Allen Bennett, (Audrey) and grandson, Kyle Spaulding. She is survived by sisters Lillian Bennett Marsh (Fred) of Corry, Pa., Alice Bennett Buserello (Joseph) of Hilton Head, S.C. and Shirley Bennett Carroll of Rockville, Md. She is also survived by her grandchildren, Sarah Howe Radliff (Kym) of Charlotte, N.C., James Spaulding, IV (Amy) and Nicholas Spaulding (Sarah) of Philadelphia, Stephanie Spaulding Dinger (Jason) of Richmond, Va., Edward Martin Howe (Mumbi) of Pittsburgh, Pa., Amy Elizabeth Howe of Edinboro, Pa. and Carly Spaulding of McKean, Pa. She had 17 great-grandchildren and many nieces and nephews. She will be very much missed.
In lieu of flowers, memorial contributions may be made to the First Baptist Church of Edinboro, 12472 Edinboro Rd., Edinboro, PA 16412.