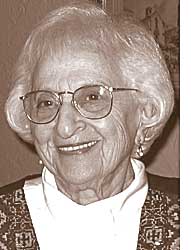 Eleanor Zaremsky of Beachwood, Ohio, died Thursday, April 26. She was 97.
Eleanor was born on Sept. 17, 1914 in Cleveland, the first child of Abraham and Lillian (Levine) Caplin, both immigrants from eastern Europe. Eleanor graduated from Glenville High School in 1932, and then from Flora Stone Mather College (now part of Case Western Reserve University) in 1936 with a degree in education, and certification to teach both English and French. In the years that followed, Eleanor was a school teacher, then social worker. With the onset of WWII, she joined the Red Cross and worked as an occupational therapist at army hospitals for the duration of the war. After assignments in Cleveland and Dayton at Wright-Patterson Air Force Base, she spent the majority of the war years at an army hospital in Staunton, Va. After the war, she considered moving to New York, but decided that returning to Cleveland and simply traveling would be more economical. The culmination of her travels was an extended trip to Europe and Israel in 1949. After a month in Paris and a month in Florence, Eleanor lived in Israel for six months and considered staying. However, the eventual draw of family, friends and familiarity brought her back to Cleveland.
Eleanor's adventures shifted in 1952 to raising a family in the years ahead after marrying Morris Zaremsky, a best friend's brother and a downstairs neighbor in her parent's apartment. Eleanor approached motherhood with the goal of instilling her values of the importance of family and community, and her interests in art, travel and education, in her sons Gary and Mark. Then, Eleanor did the same as a loving grandmother to her six grandchildren. She loved spending time with her family, and in particular visiting Yellow Springs to watch her grandchildren perform in YS Kids Playhouse and high school plays for nearly 20 years.
Eleanor was preceded in death by husband Morris Zaremsky, brother Sanford Karon and sister Florence Kastner. She is survived by sons Gary Zaremsky (Mary Beth Burkholder) of Yellow Springs and Mark Zaremsky (Connie Zaremsky) of Pittsburg, Pa. and grandchildren Matthew (Samantha Ley), Aaron, Adam, Rachel, Hannah and David Zaremsky. She is also survived by her sister Dolores Packer of Cleveland and many nieces and nephews. Memorial gifts in Eleanor's name may be made to Na'amat Women, Na'amat USA, Cleveland Council, 14055 Cedar Rd, #300, Cleveland, OH, 44118 or http://www.naamat.org , a woman's rights organization in Israel in which she was a very active life member for over 60 years. Gifts may also be made locally to YS Kids Playhouse, PO Box 478, Yellow Springs, OH 45387 or http://www.yskp.org .